The Need For XYO Network's Intervention
One of the worst feelings on earth is to misplace an important item. I have experienced this time without number. I have been in a situation where what I needed in order to take care of an immediate task was not available.
If you have ever misplaced a car key or even a pet, then you will be able to relate to what I'm saying. There have been technologies created to handle situations like this but none has been able to bring a lasting change until now.
XYO Network is a product that will bring lasting results in location technology.

Understanding What XYO Network Is All About
XYO Network aims to create a trusted, decentralized system of location oracles that will be free of attack and will be able to make available an accurate data when needed.
XYO Network will make use of the blockchain technology which will afford users of this platform the ability to issue queries in order to get the location of any data on any blockchain platform making use of smart contract.
When these queries are issued, aggregates from XYO Network receives the queries and then fetches the answers with the highest accuracy for the issued queries.
After the aggregate agrees on the best result, it then sends the answer back into the smart contract. This network component ensures the accuracy of the location of an object with the most provable certainty.
XYO NETWORK: The Methodology And Strategy
Four primary components make up XYO Network.
Sentinels: These stores data gathered from locations, environments and other XYO Network devices on digital ledgers.
Bridges: These are transcribers which relay heuristic ledgers to Diviners from sentinels in a secure format. Bridges relay to the Diviners ledgers that have not be tampered with in any way, with an additional proof of origin.
Archivists: These components ensure the storage of heuristics in a decentralized form. The system continues to function even when some data is lost or if it becomes temporarily unavailable.
Archivists always store data in raw form and get paid when the data is retrieved. The storage of data is free.
Diviners: These answer questions by analyzing the stored data in the XYO Network. This is achieved by the high proof of origin of the heuristic ledgers. Diviners must always provide honest analysis of heuristics.
Your Chance To Become A Partner
XYO Network has the potentials to effect positive changes in our everyday life. There is a need in the world for a difficult-to-disrupt system which will complement the GPS and XYO Network will fill that need. The XYO Network is a dependable and accurate system free of jamming, spoofing and cyber attacks. Partner with this innovative product today.
XYO Token Information
Token Name: XYO
Standard: ERC20
Smart Contract: Ethereum
Total Token Cap: 48 million USD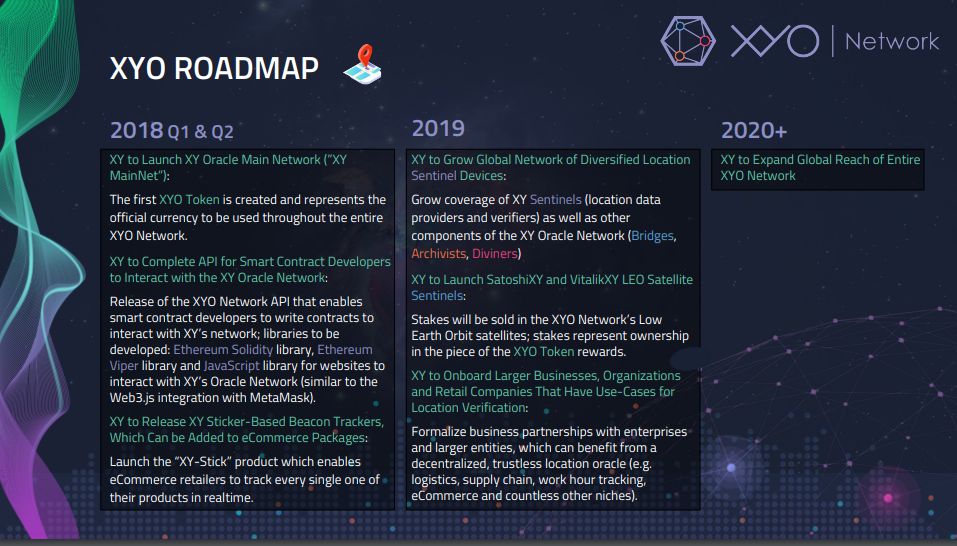 What I Really Think
XYO Network is the first oracle protocol in the world that enable two parties make transactions without the involvement of a third party. Location gathering system is the future and XYO Network is bringing you the very best location technology in the world. Now sources of data can be found with accuracy and ease by the success of this product. Partner with XYO Network today.
For more information, please visit any of the links below:
WEBSITE | ANN THREAD | TWITTER | FACEBOOK | TELEGRAM | BLOG
Username: Inene
Profile Url: https://bitcointalk.org/index.php?action=profile;u=2071864