UNDERSTANDING THE NEED FOR INVESTA
An experienced traveler knows the value of a tour guide. It doesn't matter the experience an individual has with travelling, dropping him or her in a busy in a country far away from his or her abode, there is bound to be navigational challenges. Same goes for the financial world, especially the cryptocurrency markets. There is a lot of value in an easily accessible, convergent platform with which users can relate in this somewhat complex environment. Thus the need for a platform like Investa.

AN OVERVIEW OF THE PROJECT
Investa is a novel platform that aims to bring together complimentary cryptocurrency services in a well-managed portfolio to allow users invest and manage their cryptocurrencies as they see fit. The Investa platform brings together services such as ICO investment, lending, Crypto fund management, and ATM network services all on one platform.
A single mobile app provides the whole gamut of crypto financial technology. With just a click of a button on the app, a user can manage, exchange, invest, move or even lend cryptocurrencies. The app also help in financial planning and strategy through the added advantage of professional fund and asset management.
INVESTA'S UNBEATABLE STRATEGY AND METHODOLOGY
The Investa will be privately run as a corporation albeit with its coinholders and users as key stakeholders and decision makers. With a genuine eagerness to innovate and improve as made necessary by the prevailing financial environment, the platform seeks to use an ICO to raise funds and welcome partners on board on the match towards financial breakthrough.

Highly skilled and qualified individuals in the worlds of business, finance and technology developed and operate the platform. The company has begun and will continue to grow and expand whilst embracing security, scalability, innovation and flexibility as watchwords. the growing list of founders and key team members consist of individuals who have successfully created similar innovations in the past, and they aim to repeat and surpass the same feat by working diligently initially away from the prying eyes of the public. Full disclosure on this exciting project will then follow in due course.
WHY INVESTA IS THE BEST OPTION
Investa fills a highly unique and major hole in the financial management market, not only assisting users with basic transactional problems but helping them become better decision makers and innovators. The app will expose users to loads of opportunities while allowing them and coinholders to remain being important decision makers.
The whole process of platform creation and functionality will embrace full transparency that even goes further than open source coding. External accounting firms will audit and report back findings to the stakeholders to maintain accountability. Appropriate communication channel between clients and managing team will be maintained at all times and there will be proper delegation of responsibility and authority. Voting mechanisms will be consensus based, so vital platform and chain development decisions will be reached democratically.
A RARE OPPORTUNITY TO PARTNER WITH THIS PROJECT
A mouth-watering chance to jump in on this train at the ground level would be provided via an Initial Coin Offering (ICO). The ICO will have stratified cap levels ranging from a soft limit of 1 million and a hard limit of 50 million. In case of failure to attain the soft limit, all tokens will be returned. If the tokens exceed the hard limit of 50 million the excess will be returned. If the amount of partnership fall within, however, unsold tokens will be held to maintain market liquidity.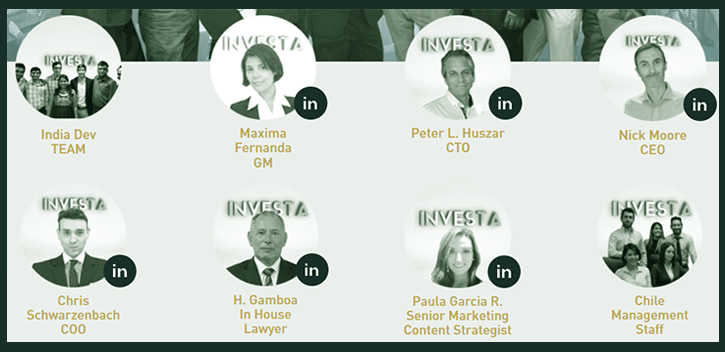 INVESTA'S TOKEN INFORMATION
Pre ICO Marketing Campaign – March, 2018
ICO Pre-Launch – May, 2018
ICO Launch – July, 2018
Coin Distribution – August, 2018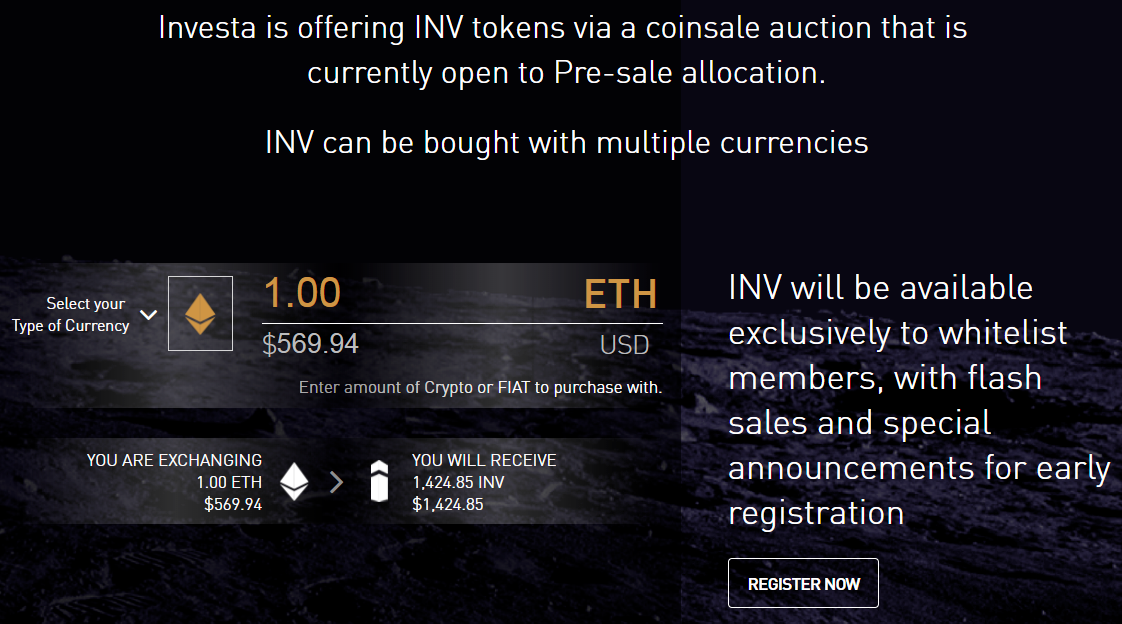 INV PreICO Price       1 INV = 0.4 USD
Price                               1 INV = 0.8 USD
Platform                        Ethereum
Accepting                      BTC, ETH, LTC, Fiat
Soft cap                         1,000,000 INV
Hard cap                       30,000,000 INV
Country                         UK
Whitelist/KYC             KYC & Whitelist
Restricted areas          USA
MY SINCERE CONCLUSION
Investa provides a real chance to kill multiple birds with one stone, providing users with a chance to better organize their financial technological affairs and become the better for it, while positioning them for better opportunities. It will undoubtedly be in huge demand, therefore early partnership is a big chance at breakthrough for discerning parties.
For more information, please click on any of the links below to join the investa communities and learn more.
Website | Whitepaper | Twitter | Facebook | Telegram | ANN Thread | Instagram
Username: Vocalwalls
Bitcointalk Profile Url: https://bitcointalk.org/index.php?action=profile;u=1825008