One of the attributes of a successful society is the amount of creativity found in it. The more the existence of creative people in a society, the more beautiful and progressive it will be. Then what happen when the creative minds in a society are not adequately compensated for their hard work? What happens when there are no forms of encouragement for their creativity? I'll tell you.
The creativity dies down and once that happens, along with it goes the spark in that society and the government starts struggling to restore that which has been lost.
This is what our society might face in the near future if there are no moves by the government to encourage creativity amongst her citizens. There is a new product available to make sure that this doesn't happen in our society and there is need for the government to partner with this product. The name of this product is Wemark. Wemark is a product platform designed to encourage creativity in the society by making sure that all works of creativity are adequately rewarded.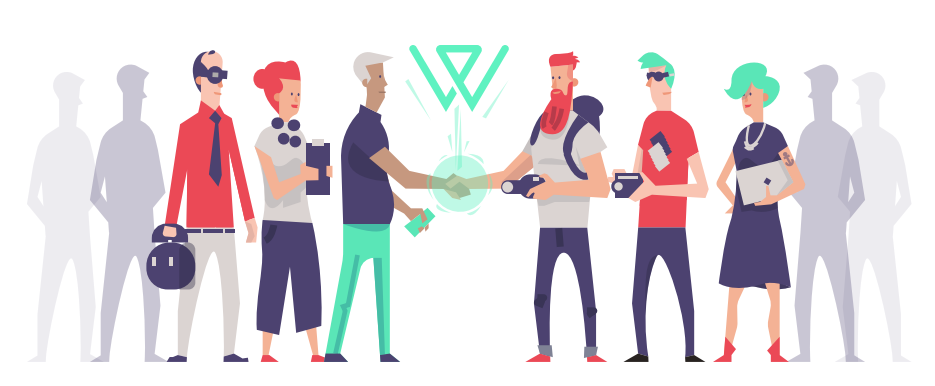 The Strategy
Wemark employs the use of smart contract which is termed the Wemark protocol to enable a better distribution of digital contents and to effectively exchange them on a decentralized platform. Wemark allows content creators to control the pricing of their contents and to have complete control over the licensing of their contents.
Wemark offers an immutable contract and terms between them and content creators for the distribution of their works. This is achieved by signing a contract which includes pricing, licensing and distribution of the digital contents. Wemark is a blockchain platform for digital content creators and on this platform, transparency in all transactions is assured.
What The Government Gains
How many products in our world today offers services free from bad practices? Only few have that record to their name. Wemark Will bring transparency into the digital content market and that means that there will be an increased participation of content creators because of the assurance of a safe and secure business platform.
This will create more jobs and help channel the citizens into being more productive. The Government cannot do everything for her citizens but without an enabling environment businesses will hardly do well.
Wemark is here to make things easier for the Government by providing sources of employment for the citizens and to make them more productive to the society. The Government should partner with Wemark to make sure that this great product succeeds and this will be very beneficial to the government and her people.
On Wemark talents will be celebrated and rewarded. This leads to job creation for the citizens of that society and more revenues will be brought into that government which will make the society more successful and progressive. Talented photographers will now be able to earn good income from their works and the days of rip-offs will be in the past.
Wrap Up
With a market value of 4billion USD, the digital content market has enough room for everyone to profit. With the government's partnership, Wemark will be able to stand strong in this industry and create a decentralized platform where digital contents will be sold and their creators will receive better earnings than they are currently getting.
I encourage all governments to partner with Wemark for the continued success of their society.
For deeper insight about this project, please visit any of the links below:
Website|Facebook| Twitter|Telegram|Blog|ANN
Author Information:
Username: babilon
Profile URL: https://bitcointalk.org/index.php?action=profile;u=2075694