As a kid I wanted to be a lot of things such as a pastor, an aeronautical engineer, a doctor, a martial artist, a photographer and so many more. Thinking about it now makes me laugh. I think that's a phase most kids go through, everything cool catches their fancy. In all these, a particular desire never dies so easily even when others fade away and in my case it was photography. My interest in photography was further increased when I received a toy camera gift on that fateful afternoon from my mother. With every click of the camera, as my eye looked through the lens, different images danced through my brain.
I wanted to create such pictures, I wanted to be able to travel to exotic places and capture images like the ones I was viewing in my toy camera. In fact, I wanted to be a photographer! I'd finally found my calling and I rejoiced. Everywhere I went and was asked what I wished to be when I grew up, I didn't hesitate to give my answer, a photographer! It was an already made answer waiting to be unleashed at any given opportunity.
At first my dad saw it as a joke but at a point he started to realize I wasn't joking and that was when he took measures to steer me into another path. "There's no money in photography! Look for something more rewarding and become" he said. I heard that statement over and over again in different formats but they all meant the same thing. Eventually my passion for photography died down.
Or so I thought.
My sweet childhood passion was revived by a particular product, that's how good this product is and that's the same product I'm unveiling to you. The name is WEMARK. This platform was expertly created for all picture lovers all over the world, no wonder my desire for photography was restored. This platform let's you be in control of your art, no third parties involved and it also let's you get real value for your passion.

What is Wemark?
The Wemark platform makes use of the blockchain technology and helps artists all over the world have total control of their work without the intrusion of a third party. It helps in business transactions between the originator of the art and the end user, which is the customer. Wemark has backings from top names in the magazine, online and blockchain markets as both investors and advisory board. Websites such as Imgure and Flickr are places where people go to share digital contents such as images and photos. For those into artworks, they display their works in Deviant Art. With Wemark, artists license their works directly to customers by making use of blockchain technology. By so doing, the artist maintains control over their works and get a greater monetary value for their work while customers get to make purchases at a more pleasant price.
Wemark has been in existence since April 2015 and has been able to help sellers across six continents to make sales to a wider audience, thereby increasing their reach as well as sales. With the use of Wemark technology, sellers have been able to grow their businesses much more faster.
Wemark's Ultimate Mission
Our mission in Wemark is to help photographers have total control over their art. For them to be able to license their pictures directly to customers while retaining all control over their content and to have full value for their work. We also aim to be the pioneer company that other industries will emulate in joint with the Market place 2.0. We will do if bigger and better than is obtainable anywhere else.
The Associated Projects
Licensing: Originators of artworks will be able to give license without a third party to customers while maintaining control over their content as well as prices.
Terms of distribution: The blockchain oversees all transactions and makes all payment as at when due without delay or error.
Referral Duties
The WEMARK Token Information
THE TEAM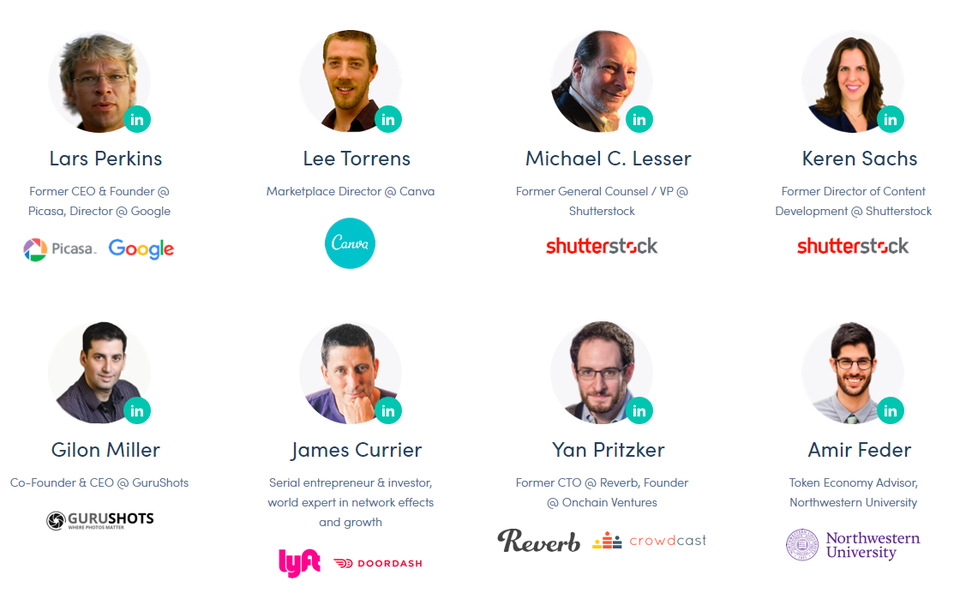 My Objective Conclusion On WEMARK
There's no better alternative than Wemark. It has the credibility and has stood the test of time. Many are using this platform and are happy for it. I hereby invite you to come on board and become the master of your artistic creations.
For more information, please visit any of the links below:
Website|Facebook| Twitter|Telegram|Blog|ANN
Author: Vocalwalls
Bitcointalk Profile Url: https://bitcointalk.org/index.php?action=profile;u=1825008