I remember the first time I came to the knowledge of cryptocurrency, I was holding a hot cup of coffee in my hand, sipping it at intervals, and reading the newspaper. It was as I read the newspaper that I came across an article about cryptocurrency. At first it appeared difficult to comprehend but finally I was able to understand what was being talked about. It was an exciting read and I was excited to invest into it. It promised to help entrepreneurs, even in developing nations, to access funds for their ideas or business. This was an avenue for everyone to have a level playing field for success. Upon further research, I came to realize that this market might not be entirely full proof to fraud and scam. I realized that even with all the potentials and possibilities in the crypto market, people can still get scammed off their hard earned investments.
Savedroid even pointed out the possibility of such scam event happening and that made me and the rest of the world even more skeptical about investing into the cryptocurrency market. Also, this crypto market is not regulated and this further makes it prone to scammers. A solution is needed to regulate this market and I'm glad to introduce to you that solution, the name is SPRINTX

WHAT YOU SHOULD KNOW ABOUT SPRINTX
SprintX wants to bring credibility into the crypto market. Just like during the launch of an IPO, a lot of auditing takes place to make sure that investments from the public is going jnto a legitimate company. On the other hand, ICOs do not have such thorough measures in place and that's a problem. SprintX has a solution for that.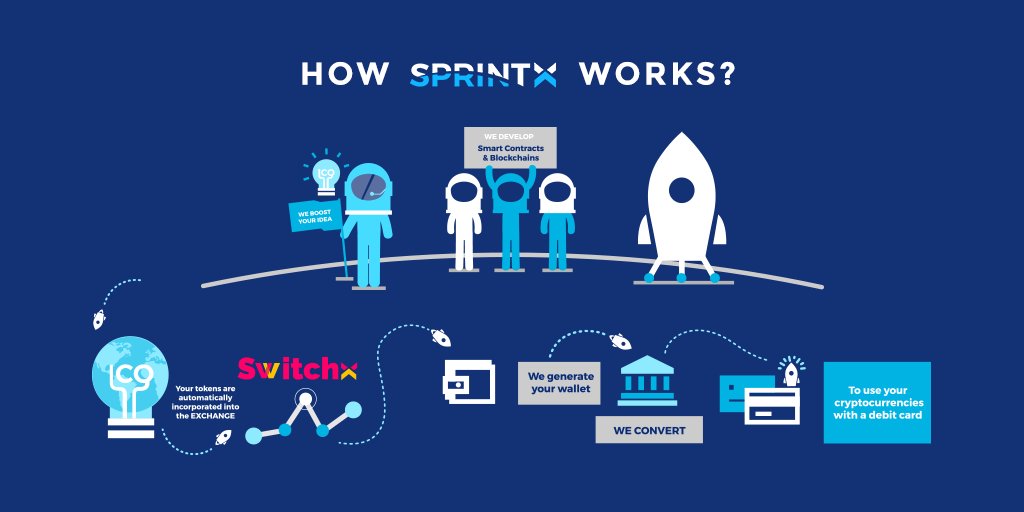 SprintX will achieve this by giving investors credibility by guaranteeing that ICOs are safe thereby making them realize their full potential. On the SprintX platform, not every project can be launched there because of the thorough vetting process done by the SprintX team which will eliminate fear from the minds of investors who choose to invest in ICOs on SprintX platform. By so doing, SprintX solves a major problem in the cryptocurrency world by providing a platform for audited ICOs.
An All Round Solution
Due to the fact that every ICO on the SprintX platform is credible, it will attract a large number of investors. This is one of the conveniences put in place for companies that launch ICOs on our platform.
Normally, entrepreneurs find it difficult to convert funds to fiat for the development of their product, so once funds are received, SprintX will make use of switchX which is a means of exchange where ICO funds raised on SprintX platform can be easily sold for fiat.
Also, switchX embraces all legal requirements which other crypto products tend to shy away from and this brings a lot of benefits for switchX. SwitchX makes it possible for tokens raised through ICOs on sprintX platform to be easily converted to fiat funds which can then be accessed via debit card or simply transferred into bank accounts.
SprintX created a NOVA foundation which is a startup incubator with the purpose of providing companies who make use of blockchain technology with a streamlined launch aid. This is geared towards increasing product development using the blockchain technology which will further take the cryptocurrency market to higher heights.
SPRINTX ROADMAP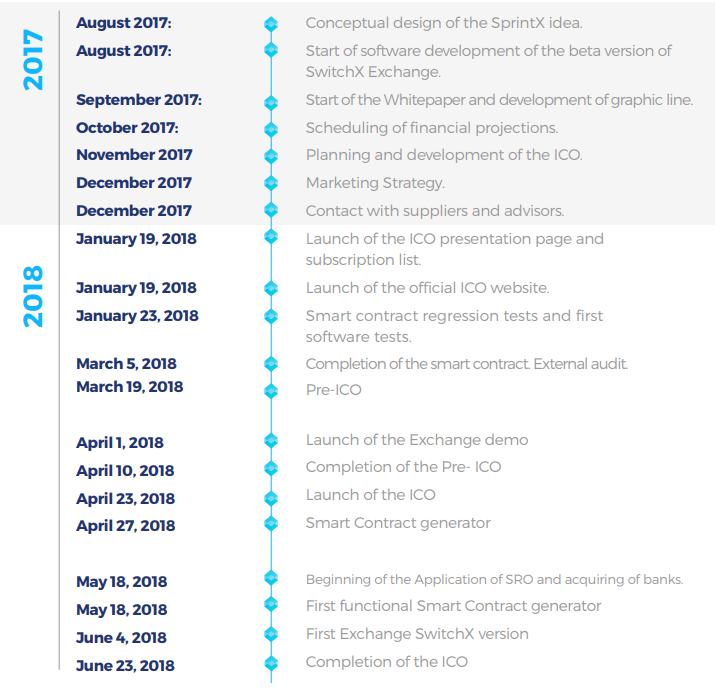 THE SPRINTX TOKEN INFORMATION
Token Symbol: SPTK
Standard: ERC20
Total Issued Token: 299,000,000 SPTK
Soft Cap: 18M ETH
Pre ICO sale: 186,550,000 SPTK
Public sale: 723,450,000 SPTK
Token Price! 1 ETH = 1112 SPTK
Tokens not sold will experience a 2 years freeze.
SPRINTX TOKEN AND FUNDS DISTRIBUTION
THE SPRINT X TEAM
Conclusion
SprintX is the long awaited solution for maximum security and convenience for ICOs and the cryptocurrency market.

For more information, please visit any of the following links below:
Website | Whitepaper | Twitter | Facebook | Medium | Bitcointalk | Telegram
Author: Vocalwalls
Bitcointalk Profile Url: https://bitcointalk.org/index.php?action=profile;u=1825008