When it comes to the assessment of individual skills with the aim of hiring them, the recruiter relies on certain companies to provide them with accurate credentials of their potential employees. Sometimes these companies do the verifications by themselves but it has been found out that it costs so much both in time and resources.
Sometimes the verification of potential employees can take almost 10 days to complete and it can cost the company up to 32% of annual revenue in the case they hire a less than qualified person for their advertised position.
Yet, these companies upon which the employers look towards for suggestions fall short in providing an accurate information for the consumption of these employers. Users of their platform have been able to sneak in falsified informations about themselves into their profiles.
If employers eventually go with the available records displayed, they tend to hire under qualified individuals. This has been a problem for companies and recruiters.
Efforts have been made by these other platforms to stop the spread of falsified information but so far they have yielded no result. This is why SpringRole was created in order to offer better services to customers.
AN OVERVIEW OF THE PLATFORM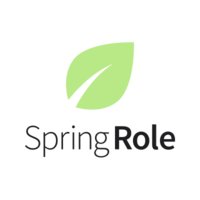 Springrole is a blockchain based platform created by an Indian team with the plan to create a profile verification platform that will make it impossible for users to falsify their information.
Companies such as LinkedIn make use of endorsement to rate the users of their platform but their endorsement system is unregulated which means that people can endorse a large number of profiles without anyone regulating their activity.
This makes the endorsements on their platform to have little value. Springrole offers a better approach with their innovative endorsement system. On springrole, endorsement comes with compensation. This compensation adds importance to the endorsement used on springrole platform.
Opportunity To Partner
This is an opportunity to partner with springrole because this revolutionary product will become a sought after platform in no distant time for accurate sourcing of individual profiles free of falsified information because the springrole team will ensure that only accurate information are obtainable on their platform. Partner today.
Benefits Of SpringRole
On SpringRole platform, SPRING Token will be used to ensure that the platform's endorsement system is functioning in the capacity it was designed to work. The Token is used to reward those who endorsed a person. If the endorsed individual either gets a job or gets paid, the people who endorsed the individual will receive Token rewards.
Through smart contract, springrole will make sure that the right amount of reward goes to the appropriate persons. This token system of endorsement makes the endorsement more appealing and authentic which means that it cannot be abused by anyone.
The end result of this is accurate profile information of users made available for all to see. Any work experience stated will be verified and endorsed by the concerned companies where the experience was gained. Educational qualifications and skill acquisition will also be verified and endorsed by the institutions where they were obtained.
Token Information
Token Name: SPRING
Total Supply : 10,000,000,000
Standard: ERC20
Currencies: BTC, ETH
Conclusion
Springrole offers a secure and safe platform for the users and ensures that all profile information obtained on the platform is genuine. On this blockchain based platform, incentives will be used to encourage people to endorse accurately.
This is what separates Springrole from any competition because their system actually works. This is without a doubt an innovative product. Don't miss this opportunity to partner with SpringRole.
Essential Links For This Project
Connect With Me On BitcoinTalk
Username: Vocalwalls
Bitcointalk Profile Url: https://bitcointalk.org/index.php?action=profile;u=1825008