In our world today, falsified information circulation is on the increase. This has become a cause for concern to both companies and individuals. People now require background checks before doing business with others or before going into any sort of partnership. In some cases, before a marriage is conducted the intending partners conduct background checks on each other.
Companies as well run background checks on candidates seeking employment in their organization. A lot of time, effort and resources goes into these background checks and sadly some people have found ways around it. A lot of organizations have hired incompetent hands because of falsified documents staying false information about the candidate.
These false information could be about their age or religion and it could also be about their academic background. Individuals have also gone into partnership with people who say They are what they are not. People have expertly hidden their history from their partners and such histories include place or country of birth, incriminating records like police records prison records etc.
This is the reality of the world in which we live in and only a platform like Springrole can accurately verify and provide the right information of users during recruitment exercises or similar situations.
Springrole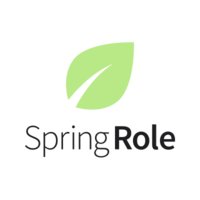 Springrole is a platform built on the blockchain technology which aims to provide only the accurate information od job seekers during recruitment processes. This is achieved when users of the platform upload their information into the platform for the easy access of their personal information. These information include CVs and a host of official documents as well as information that properly describe the user.
This platform called springrole makes sure that all information uploaded are accurate by making use of endorsements which shall be powered by springrole tokens. This serves as an incentive to ensure that there will be no false information on any profile on the platform. This platform also integrates smart contract for the purpose of reward sharing to deserving subscribers.
The Gains
On springrole platform, endorsements will be employed as a method of verifying users' information. Unlike other platforms such as LinkedIn which makes their endorsement free, springrole attaches an incentive to theirs.
Instead of a situation where anyone can endorse an individual so freely, springrole introduces their own Token to regulate endorsement on their platform. The outcome of this token is to make endorsements of individuals more meaningful by making people endorse only those they believe in.
This will help distinguish qualified individuals from the unqualified ones thereby reducing fraudulent information from candidates to the barest minimum. This is also a plus to companies who are looking to hire professionals because they will be able to know the actual professionals who can do the job they are offering.
In conclusion, the springrole platform is a solution to the problems facing profile verification. With the platform based on the blockchain technology, Springrole will be able to make available a flexible system of verification that actually works, devoid of fraudulent activities and also very trustworthy.
This product is indeed a product everyone should partner with because of the possibility of bringing a better and workable profile verification platform for both individuals and companies.
Essential Links For This Project
Connect With Me On BitcoinTalk
Username: Vocalwalls
Bitcointalk Profile Url: https://bitcointalk.org/index.php?action=profile;u=1825008