I have a confession to make. I am addicted to my mobile device. Not just me, but many people around the world have this same story to tell as well. This addiction has made me not to have the zeal to pursue personal skill improvement. The worst of it all is that the world keeps moving forward and so are new technologies and ways of doing things.
This is my reality and that of many people all around the world. The digital screens have taken out attention from the library and classroom.
Of course there have been conscious efforts on my part to rid myself of this distraction and it works for a while before I get pulled back into the world of the digital again and then I'm back from where I began.
In the world today, one needs to always improve on their skills and talents in order to stay relevant. Skills acquired 3 years ago could be ineffective today, that is why there is a need for a constant upgrade.
There is a product that aims to tackle this problem. Now you don't have to feel bad about using your gadgets all the time because you will be able to add value to your life by using this product platform. You can learn new skills and improve on already existing ones on this platform. This product is named SKYLLZ, and it's here at the right time!
UNDERSTANDING THE SKYLLZ PLATFORM
This is a platform that came into existence by the diligence, commitment and brilliance of the WORKKOLA Team. Skyllz is a distributed and an open source platform with the purpose of empowering and validating users with skill acquisition by using Skills Touchpoints Application like networking, e-learning, offline education platforms as well as any other platform that can be useful on the Skyllz ecosystem.
Every user on the skyllz platform receives a particular portfolio due to ratings done by proof of skill. Now people and businesses can experience transparency in the human skills ecosystem made possible via the skyllz platform.
Skyllz will make use of the Ethereum blockchain technology to join together  expertise of all kind, whether it is a proficient aptitude or not.
Using the skills touchpoint application (STapps), skyllz plans to help clients work on their self improvement by first arousing their interest and then once that is achieved, the clients will be able to execute uninhibited this goal of self improvement on skyllz platform.
Users can acquire, apply or improve on any skill of their choice by using the skill touchpoint application (STapp) built for that particular skill. Using skyllz token, users can finance their self improvement on the platform and afterwards they can validate their skill growth across STapps by using proof-of-skill.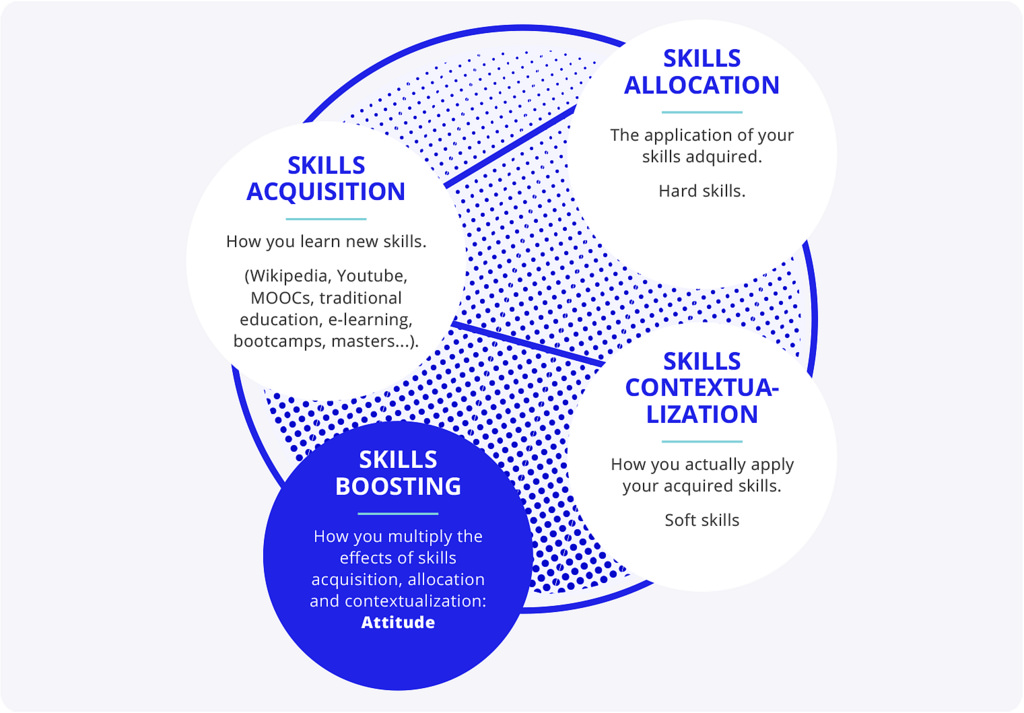 Skyllz Token Information
The skyllz token is SKT. With this token and ERC 20, users can gain access to the skyllz distributed platform. They serve as an account for users to participate and also to validate their skills in this ecosystem.
SKT is easy to use because it has a fixed supply and it can be used on the platform as a means of transaction.
PARTNERSHIP OPPORTUNITY
The SKYLLZ team have decided to open up an opportunity for the public to become a major part of this project by joining the initial coin offering.  This opportunity will help achieve the set records in the roadmap, and also make the partners major stakeholders in the project.
THE TEAM
Conclusion
Since February 2015, the Workkola team started to design a new method of talent improvement. They employed the use of the blockchain technology to create SKYLLZ in order to bring a better way for talents to be easily discovered and utilized in the workforce. Skyllz is aimed at bringing a true impact on the world on a high scale. Become a part of this project today.
For more information about this opportunity, please click on any of the links below:
SOURCES:
Website: https://skyllz.org/
Ann Thread: https://bitcointalk.org/index.php?topic=2966145
Whitepaper: https://skyllz.org/wp-content/uploads/2018/02/Skyllz_whitepaper_v1.4.pdf
Twitter: https://twitter.com/Skyllz_platform
Telegram: https://t.me/skyllz
Facebook : https://www.facebook.com/skyllzplatform/
Content Author:  Inene
Profile Url: https://bitcointalk.org/index.php?action=profile;u=2071864
ERC20 Wallet: 0x7eeBa24c32Efcf5f971053c315Cd593BbB3F5698