We live in the social media world. Surprisingly, an important feature of the social media is the influence of visual and audiovisual information.
One of my facebook friends shared a visual Information on social media and in less than an hour over one hundred comments and likes followed.
I told myself what if sharing of visuals is monetized? My friend would have become a millionaire. Little do we realize that we can monetize the sharing of videos and photos on social media. This is the purpose of selfllery.
UNDERSTANDING THE SELFLERRY INNOVATION
selfllery refers to a diverse social platform that allows users to receive gain in cryptocurrency when they punish visuals. The list of attractive benefits associated with selfllery include encouraging users to obtain cash from audios and photos in a gamified manner, assisting charitable groups by encouraging donations from its users, providing organizations with simple and effective promotion tools that contain user photos, expanding the photo and video industies with easy search optimization, incorporating current advancements and possibilities of blockchain into digital photography world and boosting transparency of its transactions.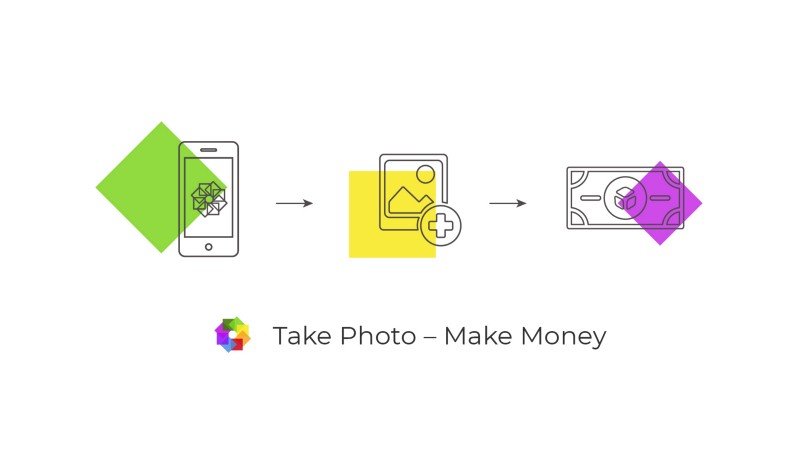 SELFLERRY'S BRILLIANT STRATEGY
Monetization of social activities : With YOU tokens, the selfllery platform rewards users for their activities on the platform since such activities add value to the platform.
Likes: The likes is an important yardstick in selfllery operation, encouraging users to be more active. As one gets likes, YOU token is credited to their accounts.
Token multiplier: The Individual token multiplier is used to calculate the YOU token amount to credit. A number of factors determine the multiplier values. Among which are the number of comments posted by users, amount of likes received, participation in photo contests and positionin top ratings among others.
Rating: The unique rating is general to all users and it indicates the popularity of users. It is shown on the user profile and also determines the YOU token multiplier. Factors that affect the rating include : number of likes received, number of comments and views of the user photos. Top rated photos are displayed in various sections. Also,  the editorial team chooses the most outstanding photos to feature in the "Editor's choice " category. Author's rating is enhanced as the user photo is featured in "Editor's choice".
Charity:  A monthly donation of 10% is paid by selfllery to some charities. A charity network is established by selfllery where users decide the percentage of donations from their income to a chosen charity.
Photoquests: Selfllery engage its users by establishing photoquests which are single or multi-player games for photographers. In a photoquest, users are assigned the task of creating specific photo (animals, scenes, objects) within limited time at various complexities. The reward for the task is prizes in YOU tokens. Several players can take part in a multi-player photoquest.
Photo contests: This feature offer advertisers with tools that include game and contest. Aimed at marketing, the company can organize a photo competition between users and state conditions geared towards drawing attention to the company. Transparency in the contest is maintained by blockchain as companies will employ smart contract in stating the terms of the contest and reward sharing.
MARKET PLACE FOR PRODUCTS AND SERVICES
The selfllery market place is accessed where related products (smartphone, selfie stick, cosmetics) and services (such as plastic surgery, photoprints) are available using YOU tokens or other cryptocurrency. The authorization process will be perfected by the supplier and the catalogue will display ratings, escrow and reviews.
On this note, the general public is urged to partner with this laudable project by investing in the token considering the various potentials embedded in it.
And since we cannot do without audios and videos, partnership with this technology will be worthwhile.
STOCK PHOTO
This provides a general general stock photo to upload and sell digital photos. In the stock gallery, payment is done with YOU token and users must complete confirmation.
TOKEN SALE
Token name: YOU
YOU token price: 1 YOU : 0.001 ETH
Minimum goal (soft cap) : 10 000 ETH
Maximum goal (hard cap) : 55 000 ETH
Minimum purchase amount: 0.1 ETH.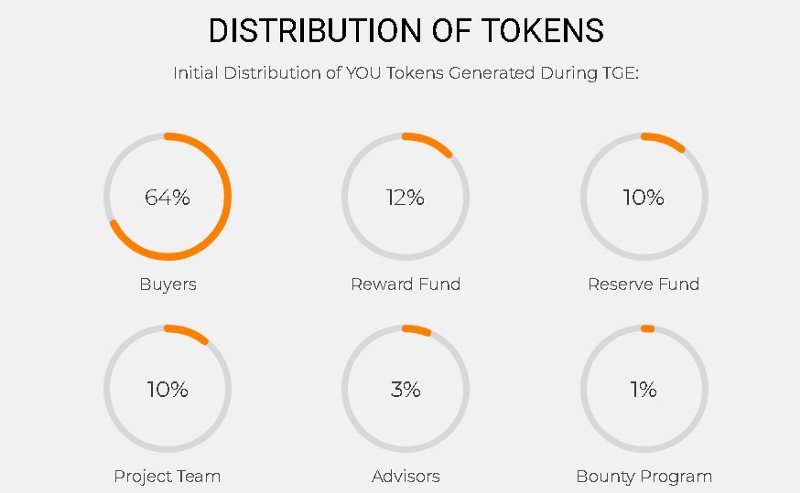 PARTNERSHIP OPPORTUNITY
The SELFLERRY team have decided to give everyone the opportunity to become a major part of this project. The team are currently accepting the purchase of their token in their Initial Coin Offering (ICO) program and there are quite a number of benefits for those who buy today.
SELFLERRY'S CORE TEAM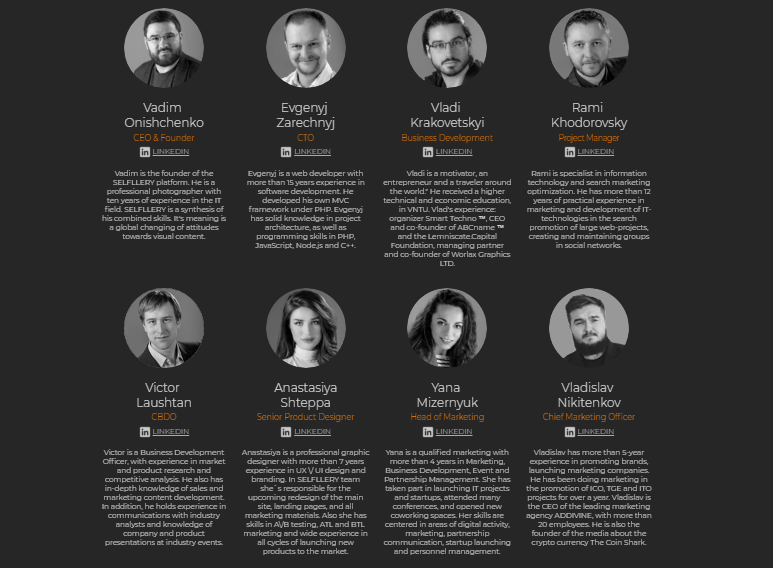 MY OBJECTIVE ANALYSIS
Well, we can all agree to the fact that we take lots of pictures everyday and don't get paid for it. It's therefore believable that SELFLERRY's innovation is coming at the right time, when almost everyone has a smart phone, and will be willing to earn some extra bucks just for taking a few pictures. Therefore, this idea is going to be a major opportunity, and those who partner with the team are in for a big treat. For me, I'm in!
For more information, please check out any of the links below:
Ann Thread | Website | Whitepaper  | Twitter | Facebook | Telegram | Medium
Author: Vocalwalls
Bitcointalk Profile Url: https://bitcointalk.org/index.php?action=profile;u=1825008