Payment systems and an entirely new way of transacting sprung up from the birth of the blockchain technology. At first, we didn't really see it coming, but after the 21st century idea was unraveled, the world is witnessing a major migrations as people are choosing to opt for a more secure and decentralized way of transferring value.
It is still unclear on which coins or tokens will be the game changer, however is definite that cryptocurrency will become an important part of the future that is here to stay.
At the moment, most ancient ways of making payments for services or products are being revolutionized, and with the silent war against fiat currencies, crypto will soon become the new standard.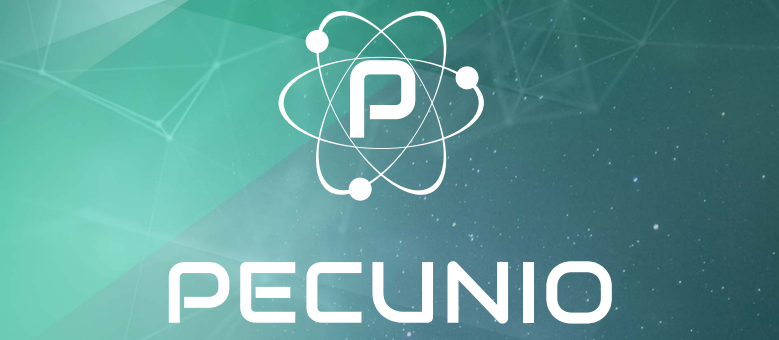 PECUNIO is one of the most brilliant innovations which will leverage on the blockchain technology to help spread out the cryptocurrency market and help it reach everyone with various interesting and record breaking products and services.
What Is Pecunio's AIM?
Being an already trusted company that has proven its integrity, PECUNIO is taking advantage of the blockchain technology, and will guarantee very easily comprehensible and safe ways for people to actively become a part of the future of financial markets.
As we can all attest, the financial sector is still not properly represented because of the lack of innovative ideas in the industry, and with the lack of laid down guidelines it is hard to get in contact with very trusted and reliable partners that we can work with due to the fact that cryptocurrency is still in its young years.
PECUNIO is a decentralized investment platform, it helps people completely understand and simplify blockchain investments which are heavily backed and insured bt trusted and transparent companies.
As has been revealed by the official PECUNIO website, the platform will help people convert from one currency to another, with less technicalities and a friendly user experience. AS a matter of fact, one major perk of PECUNIO is that it remains the one and only blockchain investment platform that maintains a free exchange card. This guarantees that users will have a lifetime value of pecunio.
FUNCTIONALITY: How PECUNIO Works
In order to be a part of the PECUNIO Ecosystem, a person will have to register an account on the platform with an active email address, the signee will also choose a desired username and a password. After the fields are filled, a verification email will be sent to the user, Once this email is confirmed, a personal wallet will be created for the registrant, and the person is automatically directed to the PECUNIO dashboard where they can get a comprehensive detail about their PECUNIO account and other holdings.
What Users Can Do With The Pecunio Platform
Once the use has funded his PECUNIO account, it is then his or her decision on what to do with the account.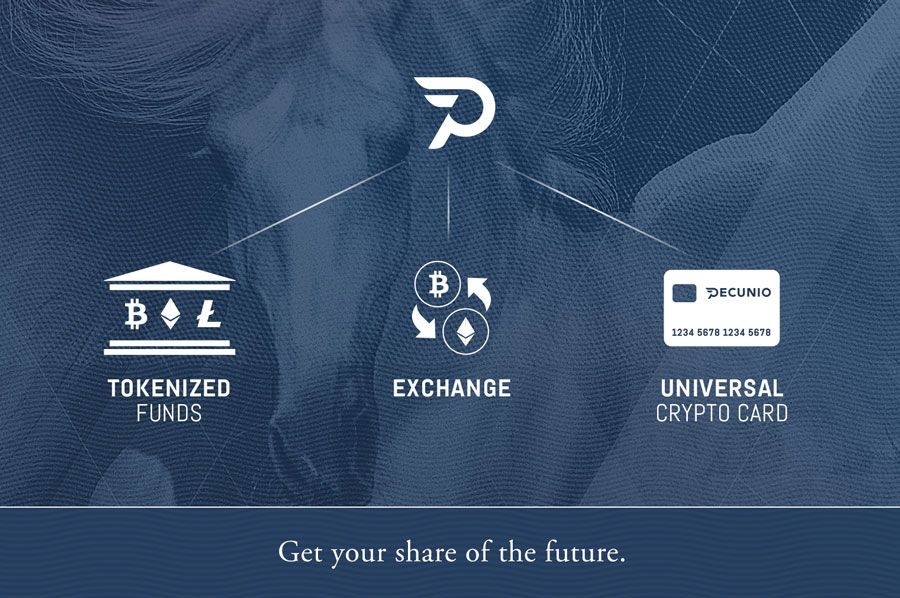 According to the information on the website, a user can either,
Spend their coins through the crypto card
Change it into another coin
Invest into any of pecunio's products..
Why PECUNIO?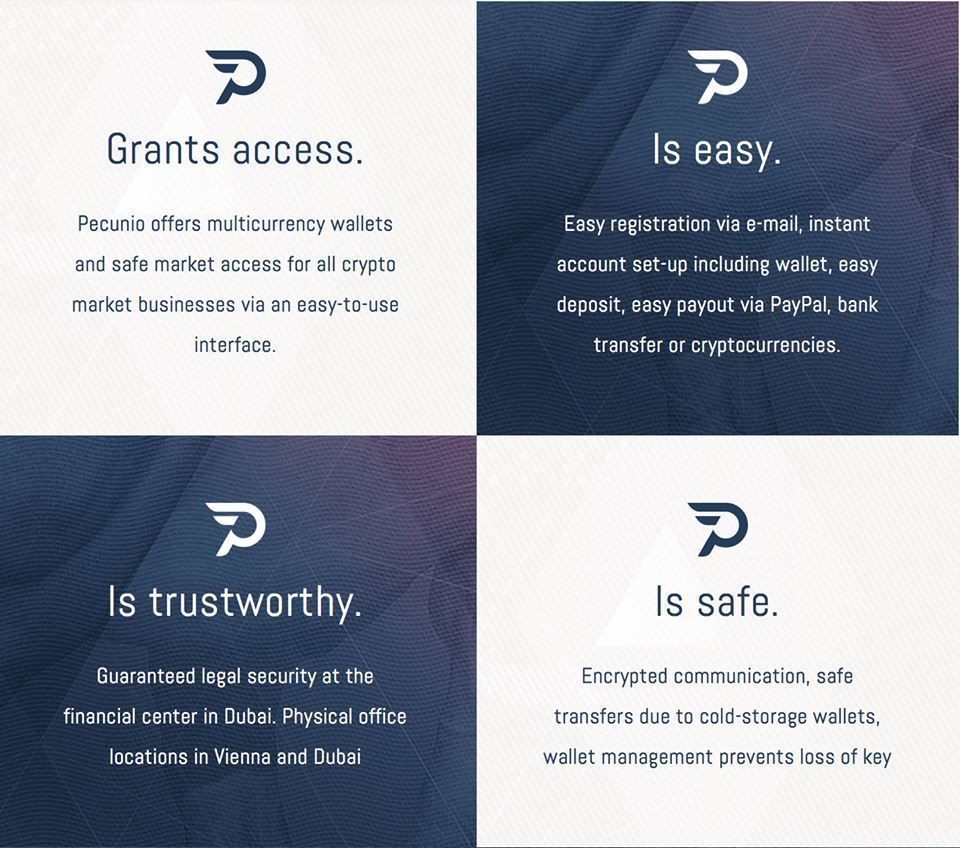 Pecunio comes with various benefits, some of which include
Access to various crypto markets
Simplified registration process
Legal security and a trusted platform
High end encryption and guaranteed safety through the use of cold storage wallets
PECUNIO TOKEN INFORMATION
In order to guarantee the safety and speed of transactions on the PEUNIO platform, the PCO which is a standard ERC 20 token was introduced.
According to the official whitepaper, the token will be spread out via various distribution channels.
The public will have a 30% share
The employee token pool will have a share of 10% which will be locked for 12 months
The advisory team will have a 5% share, locked for just 3 months
The PCO funding team will be entitled to 20%
The financial backers and early supporters will also be assigned 20%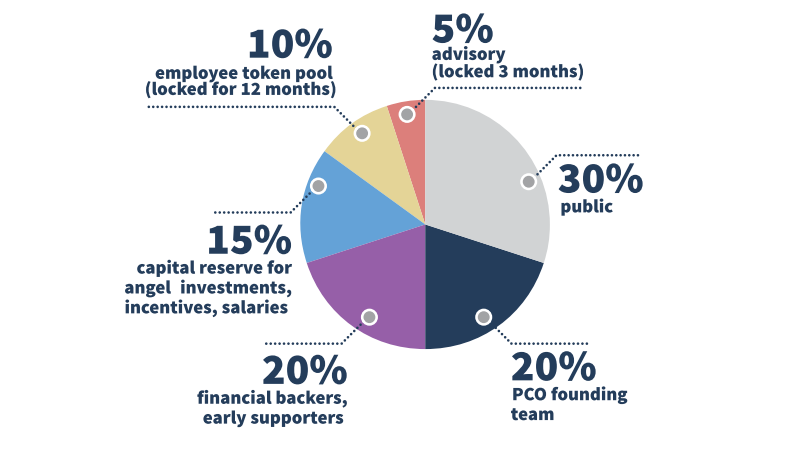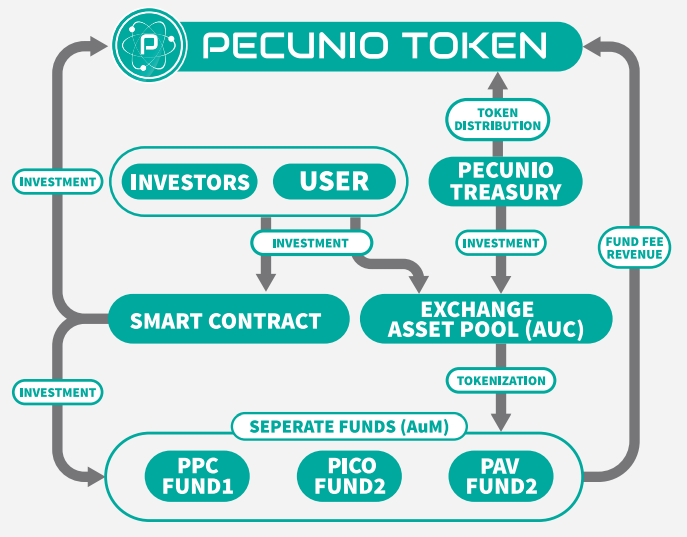 How To Invest In PCO
The total supply of PCO is 1000,000,000 PCO with a hard cap of $45,000,000 USD.
The token can be purchased using BTC, ETH, and LTC at an exchange rate of 1PCO to $1.5 USD
PECUNIO CROWD SALE
Information reveals that the crowd sale is already live, the first batch kicked off on the 1st of February up till the 21st of February 2018.
The second batch started on the 19th of March and will end on the 19th of April 2018.
PCO Token Allocation
According to verified information, the allocation of the PCO will be as follows:
20,000,000 will be allocated to PECUNIO founders
20,000,000 will also be allocated to the financial backers
5,000,000 will be granted to advisers and token supporters
10,000,000 will be allocated to the company for the management and strengthening of the platform
PECUNIO'S ROADMAP
The pecunio back end was launched in October 2017 and it is hoped that by December 2018, the company will be worth over $500 million under active management… below is a graphical representation of PECUNIO's proposed roadmap.
THE PECUNIO TEAM
In order to give honor to whom honor is due, it is vital to mention the amazing team that birthed this brilliant innovation. They are
Reinhard Berger – CHIEF EXECUTIVE OFFICER /CHIEF FINANCIAL OFFICER
Christian Thurner – CHIEF OPERATING OFFICER
OamaRichson – CONTENT CREATION & MEDIA RESEARCH
Heinz Laubert – ANGEL INVESTOR
Michael Neuhofer – CHIEF TECHNICAL OFFICER
Melanie Schauer – SOCIAL MEDIA RESEARCH
Dominik Berger – Chief Marketing Officer
OAMA RICHSON – Chief Communication Officer
DENIS SKRINNIKOV – Blockchain Media Expert
GABRIELE BERNASCONI – Digital PR Manager
MATTEO BORMETTI – Head of Influencer Marketing
MAURO PRESICCE – Head of Research
JITENDRA RATHOD – Content Manager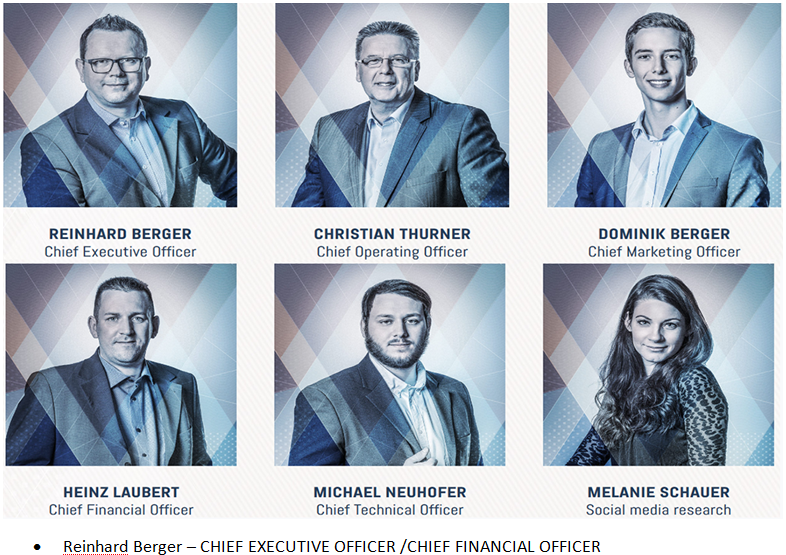 The Advisors of the PECUNIO project also include
DAVID DRAKE – Chairman of LDJ Capital
DOUGLAS C. ANDERSON – CEO of Wall Street Capital Partners
JIM PREISSLER – CEO of Trade.io
PHILLIP NUNN – Entrepreneur, CEO and International Speaker on Blockchain, Cryptocurrency and FinTech
JUSTIN JOVANOVIC – COO of investFeed
CHRISTOS STERGIOU – Business Development & Sales Manager Southern Europe
STUART ODEN – Top Influencer & PR Expert
JAMES VINCE – Cryptography Expert
CONCLUSION
With what has been revealed so far, it is clear that PECUNIO has made it's mark, and it will continue to be one of the best and revolutionized way of financing and investing.
You `may read and get more details from any of the links below:
Website:https://pecun.io/
Whitepaper:http://pecun.io/Pecunio_White_Paper.pdf
Facebook:https://www.facebook.com/PecunioFund
Telegram:https://t.me/pecuniochat
Twitter:https://twitter.com/Pecun_io
Youtube:https://www.youtube.com/channel/UCDztgm-0_HnlRaHOFeg-TYw
Medium:https://medium.com/pecunio
This content is authored by bitcointalk user: Vocalwalls
Bitcointalk Profile Url: https://bitcointalk.org/index.php?action=profile;u=1825008
wallet address: 0x4e643A7C0E494dd7463B5F10b7Bc5F7f8BA702CD