The blockchain is every cryptocurrency  investor's first love. Right from the moment we started getting on board the cryptocurrency ecosystem, we knew it was the future, and we wanted to support it. But there were other issues. Just like any relationship, you've got to always want the best, and that's what Open Collectors Network is working on. An opportunity to solve some of the major flaws in the cryptocurrency industry.
In simpler explanations, Open Collectors Network gives everyone the opportunity to be a major part of a platform that supports and enables transactions on one-of-a-kind tokens. Who do we mean?
If you don't understand yet then just hold on while I break it down for you through the opportunities that this gives us.
The Endless Opportunities Of The Open Collectors Network.
The network is a decentralized system with the following benefits.
Ability to own your own individual one-of-a-kind tokens
Ability to create individual tokens
Ability to customize your own tokens
Ability to interact with individual tokens
Ability to trade your individual and one of a kind tokens
All these in an open market with unlimited opportunities
The Concept Of The Open Collectors Network
The Open Collectors Network functions with a direct concept that distinguishes between the fungible tokens and the non fungible tokens.
How do we mean?
You watch soccer right? Now imagine you were training a high school team, and before your next match, you purchased 100 blank jerseys with no jersey numbers or names. In this case, if you had to distribute the jerseys amongst the team, you will just pick out any jersey and hand it out to any one of the players. That's because any jersey can work just for any of the player. This is what we mean by a fungible system.
Now, considering the non-fungible system,  all they jerseys will need to have the team names and position number boldly written on them. What this means is that player A will not wear Player B's jersey because they already have their custom made jerseys. This non-fungible system reveals that all the jerseys are one of a kind, and the distribution process does matter.
The Future Of Non Fungible Tokens
As we can observe all around us, it does not seem like Non Fungible tokens will be phasing out any soon. There is so much room because in the world today, there are millions of items having different shapes and layouts, even in terms of occupation, some programmers are skilled in Oracle while some are best in Java. It is clear that the opportunities that available for the non-fungible ecosystem is endless.
The Goal Of The Open Collectors Network
The network is working towards building a decentralized one size fits all platform that will help to properly store non fungible tokens, and create a seamless environment for token interaction.
The Open Collectors Network Business Model
According to clear observations, a unique model will be used to invite every day users and crypto lovers, on why they need to convert their assets using the OCN platform… the methodology includes:
The Customer Is King Approach
Mouth watering discounts and incentives
Zero competition to this one-of-a-kind idea.
How It Works
Open Collectors Network Token Information
Official information on the OCN's whitepaper reveals that all the transactions on the platform will be securely carried out through the use of an adopted token called the ECTO. The token will help check spamming and completely reduce the overload of the platform on the ethereum network.
Asides having the ECTO is your wallet, a user will also enjoy several benefits using a proof of stake algorithm, these will qualify the investor for
Operational discounts
Voting rights on what the platform should implement
Amazing airdrops that will happen periodically.
Everything You Need To Know About This Token
Token              ECTO
PreICO Price   0.00011 – 0.000117 ETH
Price                0.00015-0.00016 ETH
Bonus              Available
Bounty             Available
Platform           Ethereum
Accepting         ETH
Minimum investment    0.1 ETH
Soft cap           3,000 ETH
Hard cap          15,000 ETH
Country            Romania
Whitelist/KYC   KYC & Whitelist
Token Information
Total supply: 150,000,000
Sale supply: 97,500,500 ( 65% )
Advisors: 15,000,000 ( 10% ) – released in batches
Founders: 15,000,000 ( 10% ) – vested for 12 months
Company: 19,500,000  ( 13% ) – used for partnerships & future ECTO related events
Bounty & Airdrop: 3,000,000 ( 2% )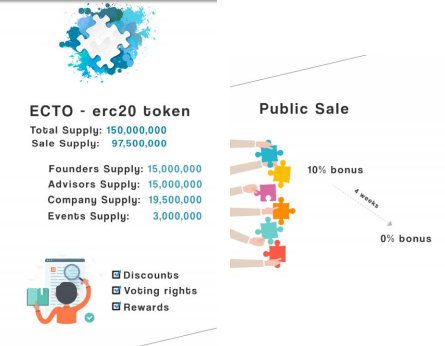 Token Sale Information
Soft cap : 3,000 ETH
Hard cap: 15,000 ETH
What Will The Generated Funds Be Used For?
Funds allocation

Development: 37%
Partnerships: 30%
Marketing: 20%
Legal & Operations: 10%
Unforseen: 3%
The Team
The Roadmap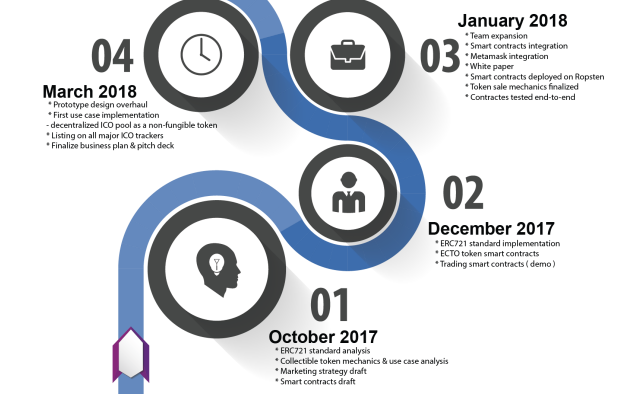 Comparison to other tokens or ICOs
Considering this 21st century idea, it is definitely a first of its kind and can therefore not be compared with any other one-of-a-kind token trading platform in the cryptocurrency industry.
It is clear that this will be a great opportunity for investors to be a part of a non-fungible crypto ecosystem that will be a major benefit to the world.
I'll say, let's invest and go all in!!
This article was written by Bitcointalk user: Vocalwalls
Bitcointalk Profile Url: https://bitcointalk.org/index.php?action=profile;u=1825008
wallet address: 0x4e643A7C0E494dd7463B5F10b7Bc5F7f8BA702CD