I swear to you, getting on board the cryptocurrency industry was very hard for me. Not because I was lazy or lacked the dedication, but because the person who had told me about the new wave in town was unable to educate me further on the basic tools and competent platforms that will help a crypto toddler gain more experience.
As a matter of fact, I dare say that many people who have refused to join the crypto industry, have done so because of the limited access to information, or that lack of competent platforms that can help them complete transactions with ease.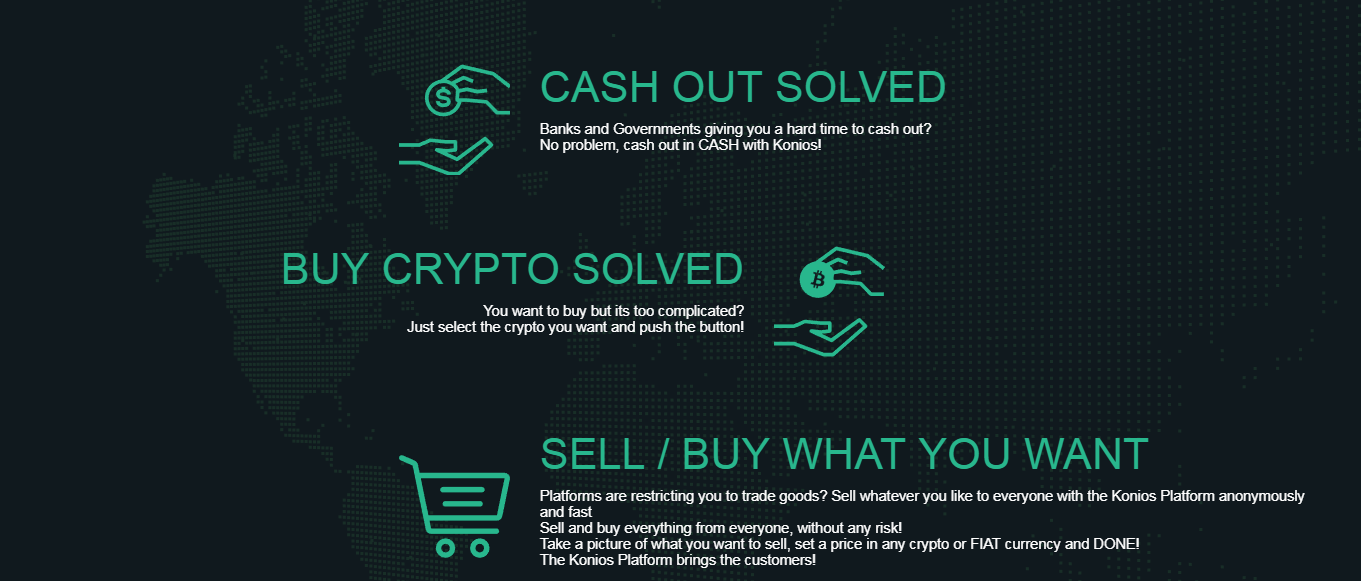 At the turn of the 21st century, crypto currencies came to limelight and gathered much more momentum across the world as individuals from diverse walks of life enrolled with different crypto currency platforms. Benefits attached to the acquisition of crypto currencies cannot be overemphasised and one of the major advantage is that it can readily serve as a tool for making seamless online transactions through the adoption of credit cards and bank transfer.
The Birth Of The KONIOS Platform
In 2017, a group of innovative professionals developed the Konios platform which has today become a leading crypto platform. Konios platform is built through block chain technology; a technology that encourages interpersonal communication with operators on the platform.
Major Challenges People Face In The Crypto Ecosystem
People often entertain fear while attempting to join crypto currencies communities for different reasons ranging from time factor to fluctuating exchange rates, request for personal data, and uncertainty about the future of crypto currencies.
These challenges have been tactfully handled by the Konios  Group such that registering on the platform becomes easy. Operators on the platform are constantly available to attend to pressing needs of members of the community without delay, and members' personal details are highly confidential. Therefore, any prospective member will not have hassles partnering with Konios Crypto Currencies network. All you need is a smart phone and internet facility to log in to Konios platform.
Registration made Easy on Konios Platform
Konios crypto currencies platform gives you no hassles in the course of tendering your application to join the community. Our platform allows for interpersonal communication with representative operators and prompt responses in cases where a  client needs to inquire about issues seem unclear.
Konios Token
On the Konios token, a utility based on Ethereum, is an inscription which reads "KON". Mainly, Konios crypto currencies network accepts currencies such as Ethereum, Bitcoin, fiat (USD, EUR, CHF, RMB, KRW)
Commencement of Konios ICO
According to the whitepaper which was made available on the official site, the ICO will commence on the 1st of May 2018 an will last for just a period of 60 days, or whenever the hard cap is reached.
The total amount of tokens supplied is 5 billion KON.
KON Token Distribution
75%- ICO
7%- Reward System
5%- Team & Founder
5%- KONIOS Inc.
4%- Airdrop & Supporter
2%- Presale
2%- Advisor
KONIOS FUND ALLOCATION
54%- Development
25%- Advertisement
10%- Liquidity
5%- HR & Marketing
5%- Administration
1%- Legal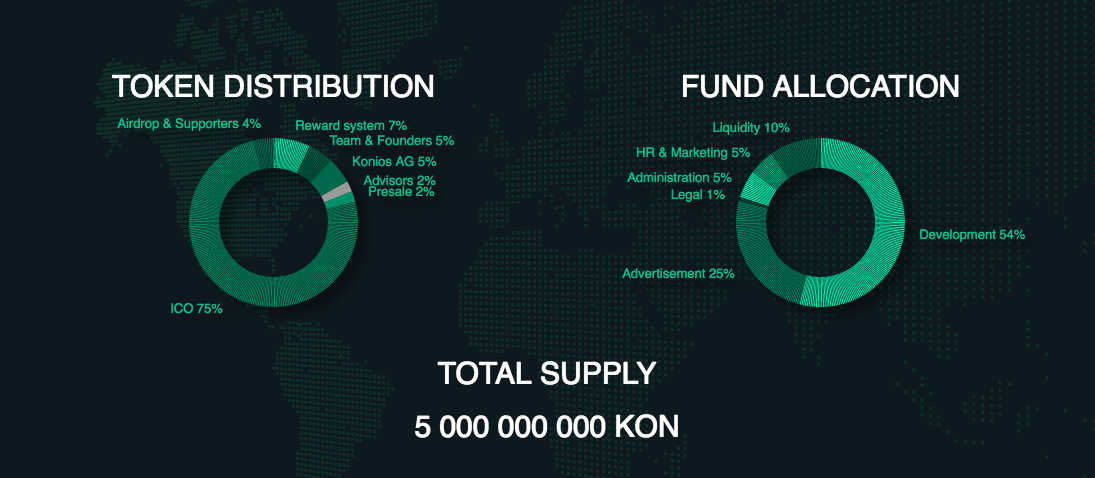 KONIOS ROADMAP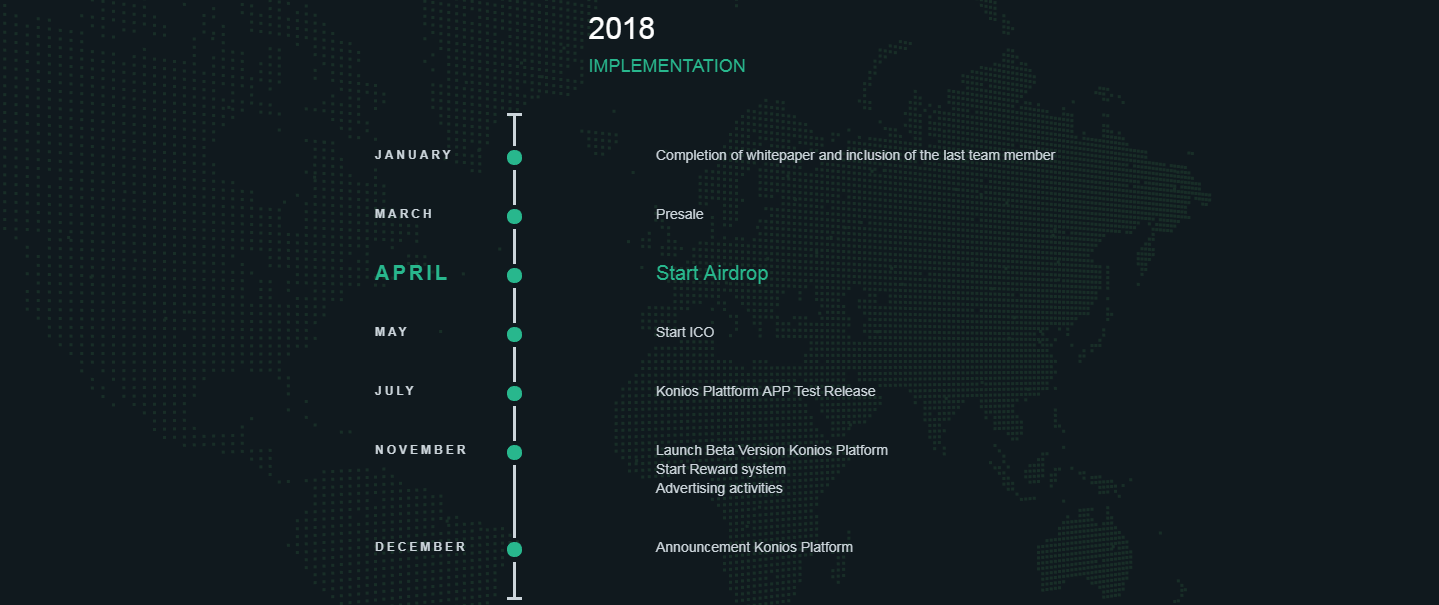 The KONIOS Team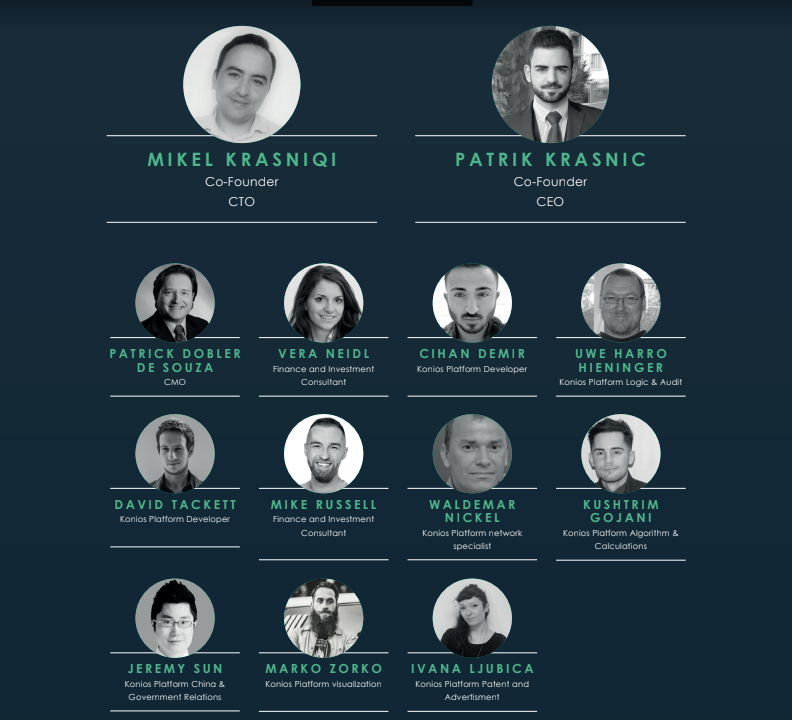 Patrik Krasnic- FOUNDER, CEO
Mikel Krasniqi- FOUNDER, CTO
Vera Neidl- Financial and investment consultant
Harro Uwe Hieninger- KONIOS Plattform Logic & Auditorium
Waldemar Nickel- KONIOS platform network specialist
Cihan Demir- KONIOS platform Software Developer
David Tackett- KONIOS platform Software Developer
Mike Russell- KONIOS platform Developer
Marko Zorko- KONIOS platform visualization
Kushtrim Gojani- KONIOS Platform Algorithms & Calculations
Ivana Ljubic- KONIOS platform patents and advertising
Jeremy Sun- KONIOS platform China & Government Relations
Patrick Dobler de Souza- Chief Marketing
What I Think About This Project
Every newbie does not just want a platform with an easy user interface, they want a support team that is readily acceptable if they every get stuck while transacting on any platform, and that's how KONIOS takes the lead. This is definitely an impressive innovation that will record massive breakthroughs and I will encourage people to become a part of it.
For more information, please follow up through any of the links below:
Website: https://KONIOS.com/
Whitepaper Link: https://KONIOS.com/#whitepaper-sec
ANN Thread: https://bitcointalk.org/index.php?topic=3128951
Telegram Group: https://t.me/KONIOSofficial
Facebook: https://www.facebook.com/KONIOS.social/
Twitter: https://twitter.com/KONIOSOfficial
Authored by: Chayo
Profile URL: https://bitcointalk.org/index.php?action=profile;u=2071882
ERC20 Wallet: 0xF77cD397c15A8412e74b500a9be04F837BdC7dD5
Telegram: ChayoE