The birth of cryptocurrencies was rather as strange as another Ponzi scheme, but with a first-hand experience of the benefits that people stand to gain from a decentralized system, millions of people have started to accept that the new best way of exchanging value without compromise of data or security, is through the use of cryptocurrencies.
As thousands of people migrate from fiat to cryptocurrency, it still remains undeniable that some other special persons are still confused as to how to become full members of the cryptocurrency ecosystem.
The Challenges Of The Traditional Trading Platforms
For some first timers, it could be the cumbersome methods involved with the registration, it could also be their lack of understanding the blockchain technology, or they could be finding it difficult to understand why most major cryptocurrency platforms are grossly unpredictable.
Asides those, some other platforms force Crypto lovers to part with valuable tokens in the name of 'transaction fees' just the same way banks and holders of fiat currencies operate. This is not a gladdening trend.
The Birth Of The KONIOS Innovation
With the birth of a new Era, a 21st century innovation called KONIOS ha develop a platform in 2017 which will help tackle many of the first hand limitations of the crypto industry.
KONIOS will make it easy for newbies and well-grounded crypto enthusiasts to gain unrestricted access to their secure exchange platform in order to maximize services on the virtual exchange platform.
Understanding The KONIOS Teechnology
The KONIOS technology is leveraging on the Blockchain technology and will support highly transparent and face to face transactions through the KONIOS platform.
The KONIOS Platform
The platform will be encrypting all the activities that are processed, through a decentralized system. It will also support the establishment of sophisticated technological infrastructures that will help provide competent data syatems to support the performance of operations on the platform.
UNERSTANDING THE NEED FOR THE KONIOS TOKEN
The KONIOS token was adopted in order to support secure and fast processing time of transactions on the KONIOS platform. According to information on the website, the token can be identified by the symbol KON.
The KON is an ERC20 ethereum base utility token which will be used to exchange values of different forms on the KONIOS platform.
In order to get a KON, you will need to use any of the following cryptocurrencies on the KONIOS platform, they are, ETH, BTC, fiat currencies such as the EURO, USD, RMB, KRW, an CHF are also supported.
ICO INFORMATION
According to the whitepaper which was made available on the official site, the ICO will commence on the 1st of May 2018 an will last for just a period of 60 days, or whenever the hard cap is reached.
The total amount of tokens supplied is 5 billion KON.
KON Token Distribution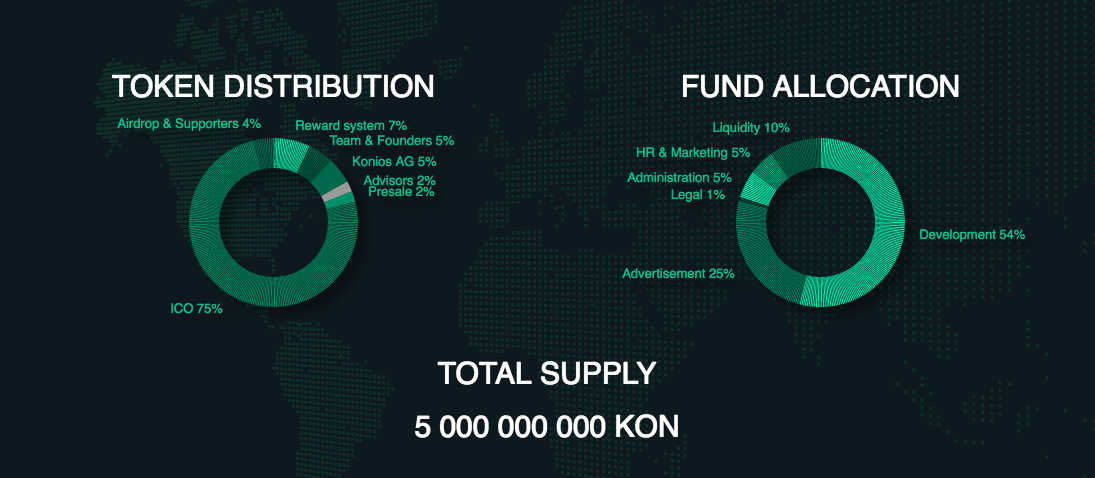 75%- ICO
7%- Reward System
5%- Team & Founder
5%- KONIOS Inc.
4%- Airdrop & Supporter
2%- Presale
2%- Advisor
KONIOS FUND ALLOCATION
54%- Development
25%- Advertisement
10%- Liquidity
5%- HR & Marketing
5%- Administration
1%- Legal
KONIOS ROADMAP
The KONIOS Team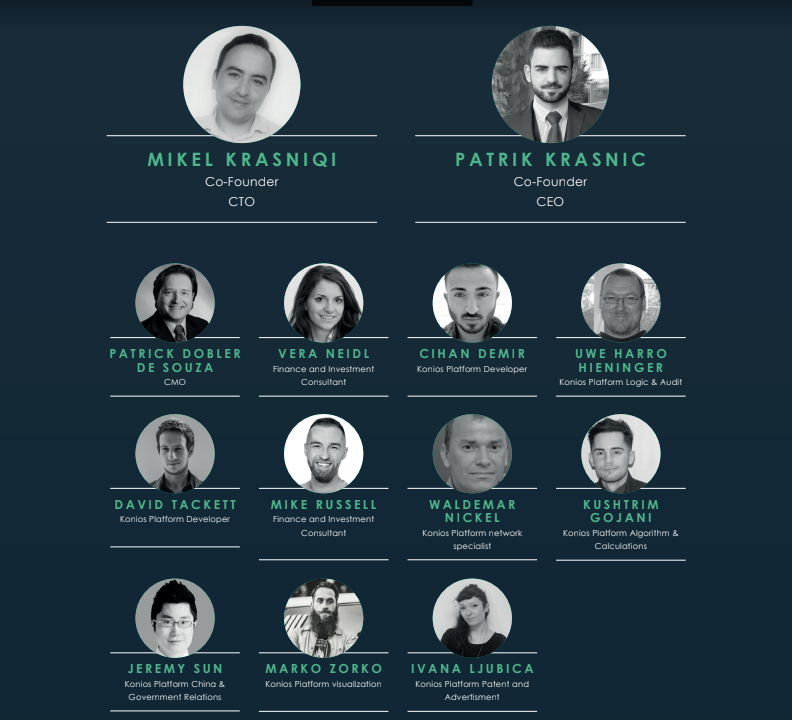 Patrik Krasnic- FOUNDER, CEO
Mikel Krasniqi- FOUNDER, CTO
Vera Neidl- Financial and investment consultant
Harro Uwe Hieninger- KONIOS Plattform Logic & Auditorium
Waldemar Nickel- KONIOS platform network specialist
Cihan Demir- KONIOS platform Software Developer
David Tackett- KONIOS platform Software Developer
Mike Russell- KONIOS platform Developer
Marko Zorko- KONIOS platform visualization
Kushtrim Gojani- KONIOS Platform Algorithms & Calculations
Ivana Ljubic- KONIOS platform patents and advertising
Jeremy Sun- KONIOS platform China & Government Relations
Patrick Dobler de Souza- Chief Marketing
OBJECTIVE OVERVIEW OF THIS PROJECT
I do recall when I was a newbie in the cryptocurrency industry. Everything seemed so hard to comprehend. As a matter of fact, I was trying to be so careful, I would not click a single button on binance until my friend would come around to help me. It was that bad.
If I had the opportunity that KONIOS is making available, things would have been simplified. For everyone who is interested, KONIOS is your one and only opportunity to gain easy access to cryptocurrency exchange with it's simplified platform.
For more information, please follow up through any of the links below:
Website: https://KONIOS.com/
Whitepaper Link: https://KONIOS.com/#whitepaper-sec
ANN Thread: https://bitcointalk.org/index.php?topic=3128951
Telegram Group: https://t.me/KONIOSofficial
Facebook: https://www.facebook.com/KONIOS.social/
Twitter: https://twitter.com/KONIOSOfficial
Authored by: Vocalwalls
Bitcointalk Profile Url: https://bitcointalk.org/index.php?action=profile;u=1825008
wallet address: 0x4e643A7C0E494dd7463B5F10b7Bc5F7f8BA702CD