It's barely 2 months since Etheera revealed their innovative idea of decentralizing the real estate industry by taking advantage of the blockchain industry. I had hurriedly condemned the idea in a blog post which I have deleted because I thought of it as yet another untrusted ICO because of the many fake ICOs that seem to be springing up everywhere.
Taking A Deeper Look
Having been pressurized by a couple of readers here, I finally decided to carry out an in-depth investigation in order to unveil massive flaws. Fortunately, I couldn't find any.
Have you ever been in that situation where you were moving from one location to another, for work, immigration, opportunity, or just because you needed a better house, and you needed to find a perfect accommodation in the best possible time?
Recently, I had wanted to move from my studio apartment into a 2 bedrooms apartment, I just could not find an ideal place so I decided to settle for whichever option I found available.
You will not believe that right after I had moved into the apartment, I started to find perfect options which were exactly tailored to fit my initial needs! I know I'm not the only one who has suffered something similar, but issues like these are what Etheera want's to help us solve by implementing smart contracts and taking advantage of the blockchain technology.
The problem With Today's Real Estate Industry
A lot of people have moved into uncomfortable houses and apartments in a haste due to the associated problem involved in the real estate industry, some of the challenges include:
Very high portal costs making people miss out on the best opportunities
Poor relationship between the real estate brokers
Very high cost of transportation which could have helped agents get a broader view of better opportunities
Poor working tools
What Etheera Brings To The Table
Etheera is a 21st century innovation which relies on the blockchain technology  to solve real-time real estate problems. The  platform which is developed by s Switzerland company is the first of it's kind globally compatible real estate platform.
What Can Etheera Do For Me?
As an individual who lives in a house, wants to move from one home to another, wants to buy a house, want's to rent or sell a house, or as a person who is affiliated to the real estate industry, Etheera wil hook you up with the best options that suit your taste.
Even if you need just a single room to pass a night, or you need an apartment where you will be served with breakfast, It's all within the platform, at the push of somebuttons.
Etheera has a matching functionality that will query results and information from your specified area of interest. So if you want to live in Washington, then Washington it is!
Etheera's Platform Integration Modules
From my investigation, Etheera's platform has numerous tools that function just like your typical CRM tools, There are databases, calendars, and a whole lot more. What's more intriguing is that their platform is completely user friendly and easy to navigate.
Need I say more? Anyways, I didn't do all the research for nothing. Let's skip to the investment section.
Etheera Token Information
The Etheera team have adopted the use of the ETA tokens as the best way to exchange value on the Etheera platform. The whitepaper revealed that there are a total os 75 billion ETA tokens with a soft cap which is valued at 6000 ETH and the hard cap at 105 000 ETH.
Here's A Quick Information About The Token Distribution
70%- TOKENSALE
10%- RESERVEDFUNDING
15%- FOUNDERS AND TEAM
3%- ADVISORS
1%- MARKETING
1%- TOURNAMENT
ETHEERA'S GENERATED FUND USAGE
60%- SOFTWARE DEVELOPMENT
20%- MARKETING AND BUSINESS DEVELOPMENT
5%- LEGALEXPENSES
5%- TOURNAMENT
5%- SECURITY
5%- OPERATING EXPENSES/ADMIN
ROADMAP
THE ETHEERA TEAM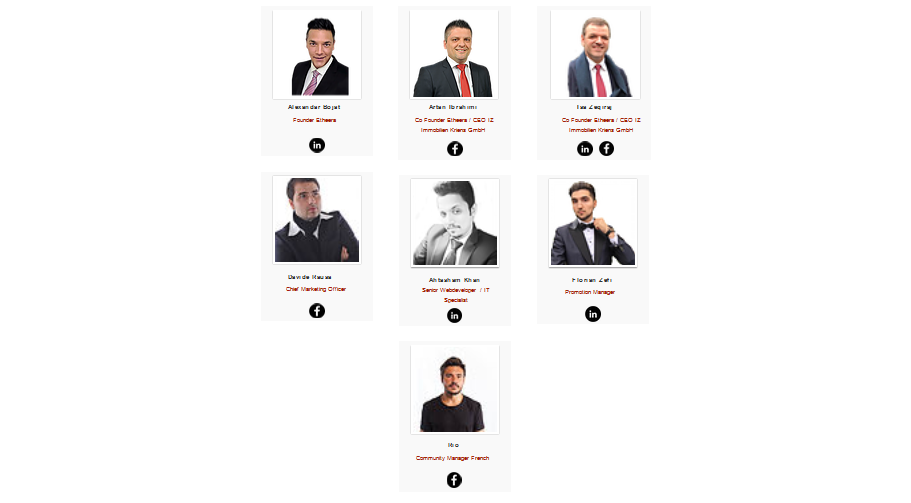 MY OBJECTIVE ANALYSIS
Listen up, I know how you all urged me to carry out this research, and I dare say that Etheera is in a league of its own and cannot be compare to anything out there. It is the one stop platform that links up the major stakeholders of the real estate industry. You definitely want a bite of this cake. Go for it!
For more information, please check out any of the following links below:
Website: https://www.etheera.com
Whitepaper: https://www.etheera.com/icowhitepaper-eng
Telegram: https://t.me/etheera
Twitter: https://twitter.com/Etheera1
Facebook: https://www.facebook.com/etheera
Medium: https://medium.com/@etheera
Reddit: https://www.reddit.com/user/Etheera-ICO
GitHub: https://github.com/Etheera
Published by: Inene
Profile Url: https://bitcointalk.org/index.php?action=profile;u=2071864
ERC20 Wallet:   0x7eeBa24c32Efcf5f971053c315Cd593BbB3F5698