We all know the importance of information and data especially when it gets into the wrong hands, we all know how uneasy we get when we lose our wallets or folders containing sensitive information.
DIW has a master plan to eradicate the arising problem of security vulnerability regarding the issue of private sensitive data such as; identification documents, bank and login details, wills, healthcare records and others. DIW plans to achieve all these with the introduction of a secure and safe digital vault.
This would go a long way to foster the use of crypto currencies by developing a system that accepts all major crypto currencies and fiat which can be easily incorporated into thousands of website. In addition, it would encourage a trusted, transparent and global directory with a rating system where individuals and organizations with similar interests can do business on a platter of gold.
The preferred means of payment throughout the DIW network would be the DIW token.
UNDERSTANDING THE DIW TOKEN CONCEPT
DIWs project development has five phases;
SAFE DIGITAL VAULT
With the sporadic development in the technological world, the importance of secure storage of sensitive information such as bank account, credit card information, identification documents, validated KYC or KYS related documents cannot be overstated.
DIW ensures that all these listed information and documents are safely protected in a masterly encrypted, secure and private decentralized platform which has the added benefit of allowing its account holders to safely share their data.
PAYMENT ACCESS
It provides an efficient, yet effective platform that enables website owners to make transactions in any major currency including crypto currencies or fiat while making use of DIWs single login decentralized platform.
GLOBAL DIRECTORY
DIW intends to initiate a global directory where account holders comprising of individuals and organizations will be able to outline their services. The directory would contain a smart rating system that ensures trust and transparency between account holders.
PAID ESCROW
Another fantastic feature of the DIW platform is the smart content based escrow service it contains which helps to ensure safe transactions between parties. DIW is simple yet sophisticated and smart making sure that all transaction criteria are met before releasing the funds.
THE VISION/ ELECTRONIC HEALTH RECORDS
The importance of security cannot be overemphasized in regards to electronic health records. Our vision at DIW is to liberate this sector by initiating the encrypted storage and ensure sharing of personal EHRS between doctors, pharmacists, laboratories and account holders with the help of the smart contract technology already featured in the DIW network.
TOKEN INFORMATION
Token                                      DIW
Price                                        1 ETH = 8000 DIW
Bonus                                      Available
Bounty                                     Available
Platform                                   Ethereum
Accepting                                 ETH
Hard cap                                  28 000 000 USD
Country                                    Marshall Islands
Whitelist/KYC                           KYC
Restricted areas                       Residents of USA, China and Singapore
OBJECTIVE ANALYSIS
Some of the major advantages of the DIW infrastructure is that it is very efficient and very cost friendly. It grants the user a single access to an unlimited doorway. The benefits are monumental, and all the user needs to do is just create an account. Properly observing the plied strategies is a major pointer that this project will be a success.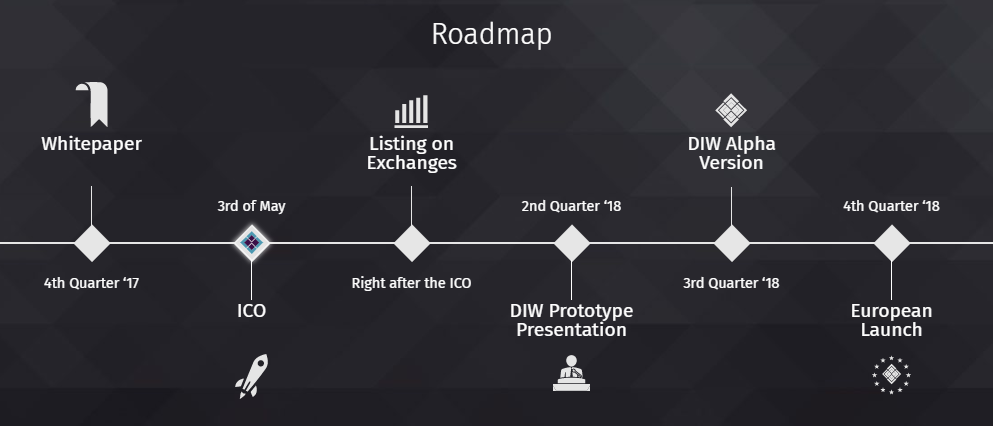 For more information, please visit any of the links below:
Website: https://diwtoken.com/
Announcement Thread: https://bitcointalk.org/index.php?topic=2567416
Facebook Page: https://www.facebook.com/diwtoken/
Twitter Page:  https://twitter.com/diwtoken
Telegram group: https://t.me/diwtoken
Username: Inene
Profile Url: https://bitcointalk.org/index.php?action=profile;u=2071864
ERC20 Wallet:  0x7eeBa24c32Efcf5f971053c315Cd593BbB3F5698