Introduction to the DIW Platform
Once in a while we get to hear in the news how personal details of one celebrity or another got leaked onto the Internet. This does not happen to only celebrities, individuals who are not in the entertainment industry are not immune to it. In fact I have been a victim myself.
When one uses a product, it means trust is put in that product to serve and deliver on its promises. Well, I put my trust in the wrong product and I regretted it. All my personal details and information found their way to the hungry eyes of Internet users and before I could say Jack, I became an Internet sensation.
I wouldn't go into details on that, but all I have to say is that we need, no, deserve a product that has the ability to provide a secure platform for everyone where users information are completely safe.
DIW is that platform and it promises to be a total solution to every security problem currently faced online.
The DIW Platform
Being built on the blockchain technology, DIW is a platform that promises it's account holders rest of mind because all their personal details and transactions will be safe.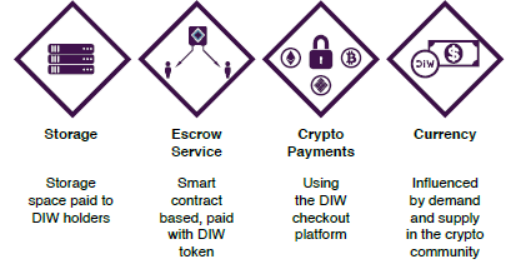 DIW will make use of smart contract to ensure the safety of all transactions on its platform, this will eliminate fraud on this platform and make transactions safe.
DIW will introduce an Escrow service that will make sure funds are not released until all transaction contracts are upheld. This platform will also be used to make everyday payment via cryptocurrencies. This is indeed the answer the online community has been waiting for.
The DIW Advantage
Cost Effective Transactions: on the DIW platform, transactions will become cheaper to conduct. With the absence of middlemen the cost of transaction will be reduced and this will save users of the platform additional expenses.
Secure peer-to-peer protocol: On this platform, data can be exchanged and shared by the different parties making use of the platform. Sensitive informations such as health care data will be able to be transmitted on the platform and received by the other party in a secure and safe medium.
Payment Protocol: DIW will bring about its own unique payment gateway which all e-commerce websites will be able to integrate into their websites that will make cryptocurrency to be used in everyday life.
This payment gateway will allow the use of both Fiat money and cryptocurrencies as mode of payment.
DIW Token: The token will be used for transactions throughout the entire network which will give rise to a higher secure transaction between members. This will create trust among members and will boost transactions because cases of fraud and scam will become eliminated on the DIW platform.
Purchase Of Tokens
With the growing rate of cryptocurrency popularity all over the world, it is important to be able to use the currency in everyday affairs.
The market cap of cryptocurrency have experienced an increase in just a period of 12 months. Despite all this success, the use of cryptocurrency is limited. They can  be used within the crypto community for exchange of value.
This is what DIW platform aims to change. With DIW platform, cryptocurrency will no longer be a limited currency but will have usage in everyday life.
DIW Token Information
Token Name: DIW
Token Standard: ERC20
Currency: ETH
Hard Cap: 28M USD
Token Supply: 1 Billion USD.
My Conclusion
DIW is a revolution in the crypto world. This is a platform that will make previously impossible things possible, such as using cryptocurrency in everyday life.
Also the issue of online fraud will be taken care of on the platform and made nonexistent. No matter the strategy employed by fraudsters, on the DIW platform, those strategies will have no effect because DIW team will ensure maximum security for their users.
take a look at their roadmap below:
Wouldn't you want to be a part of such a powerful product? Partner with DIW today and the future promises to be a brighter place for everyone.
For more information, please read click on any of the links below:
[    
Website
    |    
Telegram
    |    
Twitter
    |
Facebook
    |    
Instagram
    |    
Reddit
    |    
Medium
    |    
Whitepaper
    |    
Announcement Thread
    ]
Author Username: Jemma
Profile URL: https://bitcointalk.org/index.php?action=profile;u=2071893