With the emergence of numerous e-commerce websites offering promos and discounts the whole process of buying has become something to look forward to as every product is always on sale at some point or the other and  there's this feeling you get when you find out just in time. This amazing benefit is explored by various products and companies and you can tell that everybody loves a little discount here and there. Emphatically, I can say that It is one idea that looks like it has come to stay and truth be told it has. Did I forget to add that that it is highly compatible with all kinds of business? I know we have all walked into a grocery store and have seen things like buying two for the price of one or recharge and get certain percentage cash back. It is just everywhere around us and unavoidable.
Sadly, a lot of challenges are rising daily in this category as both the customers and complexities are sporadically increasing. Since banks keep coming up with new roadblocks in the system, the micropayment is relatively getting complex to store and spend as the case may be. Interestingly, it would surprise you to know that there is currently no platform to address the rising problem of where to store all your cashback and discount offer until you decide to spend it. Since the advent of cryptocurrency, the market has been increasingly getting stronger and the future looks bright.
proffered solution
Since some of us have had these problems at some point, i personally think it is a dream come true and this is the breakthrough. CASHBAG is offering something fantastic and innovative to its customer which involves gathering all the latest offers and discounts in a single yet trusted platform. It even gets better you can buy on the platform and save in your wallet then you can transfer it to your bank account or PayPal.
This innovation was launched in 2016 with over 500 merchants on their website which has since stood the test of time. For the purpose of transparency and smooth running of the system, the power of block chain technology has been incorporated. The CBC token is the key element on the platform and it can be used a couple of times. It includes;
Revenue generation from advertisement services offered on the platform.
Members get incentives in the CBC token.
 Payment for the numerous services offered on the platform.
Trading with a token on the many cryptocurrency exchanges.
Storing on the digital wallet.
We all have needs and wants at various times and points in our lives, this platform helps customers to get what they want while offering discount. It is a revolution in the reward mechanism of the advertising category I must say.
Ico information and team
Of the 367,000,000 CBC tokens that were issued for the project, 120,000,000 tokens will be sold in the ICO. This offer begins from the 12th March 2018 and is valid until 12th April 2019.
However, the token presale date has not been announced. The team believes strongly that the power of blockchain technology will revolutionize and change the cashback industry forever and are willing to spend the collected funds on software development, marketing, and for reserve purpose.
CASHBAG Token Information
Token Symbol : CBC
Token Type : ERC20
Token Supply : 367,000,000 CBC
Token Available for Sale : 120,000,000 CBC
Token Sale Date :
Pre Sale : TBA
Sale 1: 12 March 2018
Sale 2 : 19 March 2018
Sale 3 : 26 March 2018
Sale 4 : 2 April 2018
Token Price :
Pre Sale Stage : 1 ETH = 8400 CBC
Sale Stage 1 : 1 ETH = 7200 CBC
Sale Stage 2 : 1 ETH = 6900 CBC
Sale Stage 3 : 1 ETH = 6600 CBC
Sale Stage 4 : 1 ETH = 6000 CBC
Token Distribution And Use Of Funds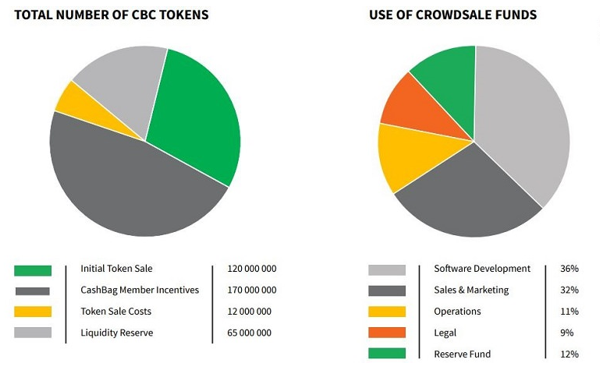 The CASHBAG Roadmap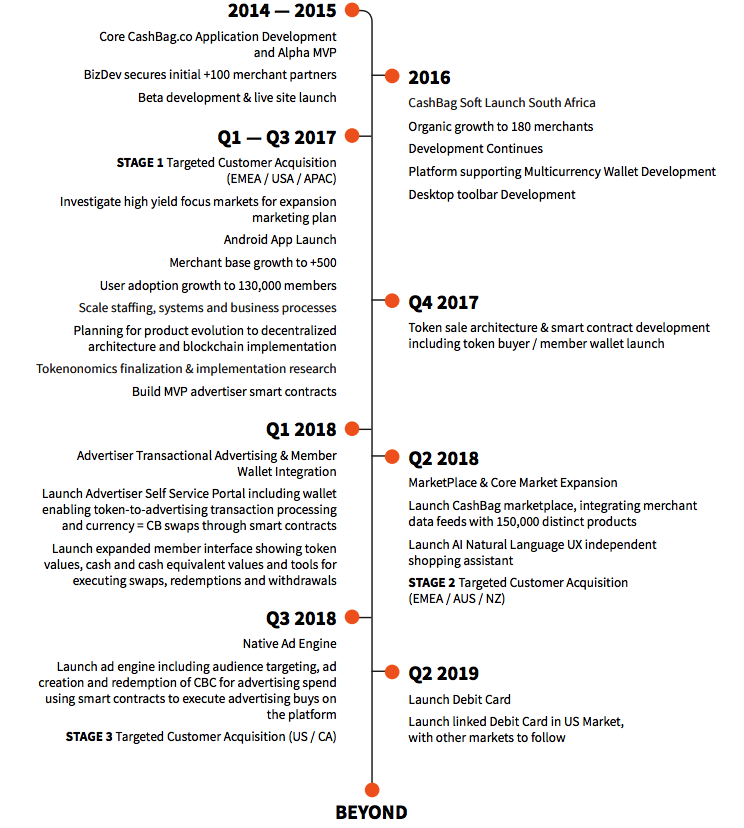 The CASHBAG Team
·        Jonathan Miller – CO-FOUNDER / CEO
·        Kirsty Henderson – CO-FOUNDER / BUSINESS LEAD
·        Eugene Benade – CO-CTO / SOFTWARE DEVELOPMENT
·        Nicolaas Venter – CO-CTO / SYSTEMS ENGINEERING & SOFTWARE DEVELOPMENT
·        Jonathan Meanwell – CMO / BUSINESS DEVELOPMENT & ADVERTISER SALES
·        Divan Bower – USER COMMUNICATION & MESSAGING
·        Maggie Benson – USER EXPERIENCE & FRONT END DESIGN
·        Ryan MacGeoghan – ANALYTICS AND DATA SCIENCE
·        Marc Kenigsberg – EXTERNAL ADVISOR
·        Boyan Josic – EXTERNAL ADVISOR
Conclusion
Some decades ago who would have thought that at some point in our lives we would actually sit at home and order things online. Not just that, you even get loads of discounted offers while doing it which gives room for predictive purchases. This is a popular scheme which has benefited millions of people worldwide.
Cashback is a fantastic innovation with amazing incentives which lures the consumers and they currently have over 150 merchants from South Africa on the platform. The retail e-commerce is predicted to be about 4.058 trillion dollars by 2020 and we are all aware of the fact that people would always purchase things. With the rapidly improving technology, we can tell that life is going to be so much easier. Decentralization and democratization is the way to go for any company looking to capture their future market.
For more information, please visit any of the links below:
Website: https://tokensale.CASHBAG.co/
Whitepaper: https://tokensale.CASHBAG.co/documents/CB_Token_Sale_Whitepaper.pdf
Facebook: https://www.facebook.com/CASHBAG.co/
Telegram: http://t.me/CASHBAG
Twitter: https://twitter.com/CASHBAGco
Bitcointalk: https://bitcointalk.org/index.php?topic=2311052.0
Ann thread: https://bitcointalk.org/index.php?topic=2311052.0
Bitcointalk name: Inene
Profile Url: https://bitcointalk.org/index.php?action=profile;u=2071864
ERC20 Wallet: 0x7eeBa24c32Efcf5f971053c315Cd593BbB3F5698