Today, it has become extremely easy to buy products with the advent of myriads of e-commerce websites constantly offering something for sale. The shopping experience for many of us has been transformed. Utilized by many products and beloved by customers, e-commerce websites has turned out to be a solid scheme for all types of business. You must have heard this on many platforms. Recharge with – amount and get a hundred percent cashback and much more in other areas including grocery, entertainment, etc.
This category is however faced with a lot of challenges in the present situation, complexities and customers are growing simultaneously. It's becoming more strenuous to store and spend micropayment currencies as financial institutions continue to come up with roadblocks to the system. No platform can allow you store all your discount and cashback offers and spend whenever you please. With the advent of crypto currency though, it is believed that the market would in the coming years get stronger.
A COMPLETELY NEW SOLUTION
CASHBAG is bringing a unique offering to consumers by converging all the latest offers and discounts into one single platform. You make purchases on that platform and save in your wallet to transfer to your bank account or paypal. With over 500 merchants on the website which was launched in 2016, the power of blockchain technology has been integrated to make the system smooth and transparent.
Earnings are made from merchants who pay relative to the total sales revenue they are able to generate on the platform. The CBC Token is a key factor on the platform and can be employed for multiple use cases, some of which are listed below.
Advertisement payment on CASHBAG
Incentives earned by members in the CBC Token
Payment for the various platform services
Trading on the multiple cryptocurrency exchanges with token
Digital wallet storage
Another one of the targets of the platform is to assist customers get what they desire and engaging them with the specific product by providing them various incentives in the form of discounts and cash back. They aim to revolutionise the reward mechanism of the advertising category.
TOKEN INFORMATION
367,000,000 CBC tokens are issued in total for the project, 120,000,000 of which will be sold in the ICO. From 12th March, 2018 token sales will begin and extend till April 12, 2019. The date for the presale of token has not been announced yet.
ALLOCATION OF GENERATED FUNDS
Funds collected by the team will be spent on software development, used as reserve funds and for marketing. It is believed by them that the power of blockchain technology will cause a revolution in the cashback industry forever.
Token Symbol : CBC
Token Type : ERC20
Token Supply : 367,000,000 CBC
Token Available for Sale : 120,000,000 CBC
Token Sale Date :
Pre Sale : TBA
Sale 1: 12 March 2018
Sale 2 : 19 March 2018
Sale 3 : 26 March 2018
Sale 4 : 2 April 2018
Token Price :
Pre Sale Stage : 1 ETH = 8400 CBC
Sale Stage 1 : 1 ETH = 7200 CBC
Sale Stage 2 : 1 ETH = 6900 CBC
Sale Stage 3 : 1 ETH = 6600 CBC
Sale Stage 4 : 1 ETH = 6000 CBC
Token Distribution And Use Of Funds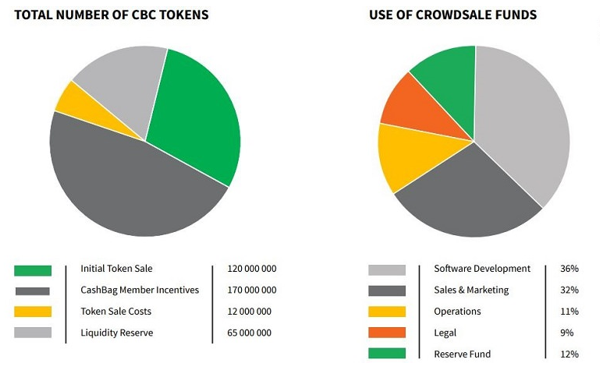 The CASHBAG Roadmap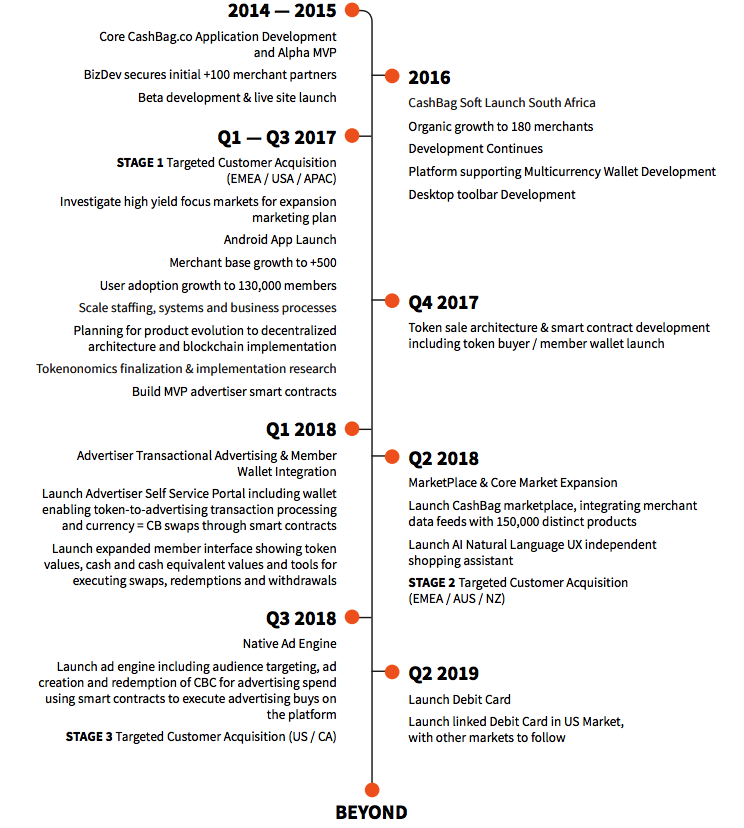 The CASHBAG Team
·        Jonathan Miller – CO-FOUNDER / CEO
·        Kirsty Henderson – CO-FOUNDER / BUSINESS LEAD
·        Eugene Benade – CO-CTO / SOFTWARE DEVELOPMENT
·        Nicolaas Venter – CO-CTO / SYSTEMS ENGINEERING & SOFTWARE DEVELOPMENT
·        Jonathan Meanwell – CMO / BUSINESS DEVELOPMENT & ADVERTISER SALES
·        Divan Bower – USER COMMUNICATION & MESSAGING
·        Maggie Benson – USER EXPERIENCE & FRONT END DESIGN
·        Ryan MacGeoghan – ANALYTICS AND DATA SCIENCE
·        Marc Kenigsberg – EXTERNAL ADVISOR
·        Boyan Josic – EXTERNAL ADVISOR
MY OBJECTIVE ANALYSIS OF THIS PROJECT
A few decades ago, no one would have thought it possible to sit back at home and order for whatever one wanted. In the future, a perfect plan for us would be for online shopping websites to provide multiple offers to buy what we may need. The cashback programme is one of the most popular and familiar schemes that has saved a lot of time and money for people. The debit card will be launched in the USA next year during the project expansion.
Cashback is a unique incentive which attracts customers to purchase specific goods or services. The platform possess more than 150 merchants from South Africa added organically. The forecast for the e-commerce retail by the year 2020 is 4.058 trillion dollars as people cannot desist from purchasing what they require. With constant advancements in the technology, it is hoped that life is going to be way easier going forward. In the world of today, Democratization and decentralization are the watchwords and should be the core philosophy for each institution and company that desires to capture the market of the future.
For more information, please visit any of the links below:
Website: https://tokensale.CASHBAG.co/
Whitepaper: https://tokensale.CASHBAG.co/documents/CB_Token_Sale_Whitepaper.pdf
Facebook: https://www.facebook.com/CASHBAG.co/
Telegram: http://t.me/CASHBAG
Twitter: https://twitter.com/CASHBAGco
Bitcointalk: https://bitcointalk.org/index.php?topic=2311052.0
Ann thread: https://bitcointalk.org/index.php?topic=2311052.0
Bitcointalk name: Chayo
Profile URL: https://bitcointalk.org/index.php?action=profile;u=2071882
ERC20 Wallet: 0xF77cD397c15A8412e74b500a9be04F837BdC7dD5
Telegram: ChayoE