According to global estimates, the bank rates and transaction fees for simple transactions run into billions of dollars when collated together, more so, many individuals who are forced to use credit cards for simplified transactions do not get to enjoy any rewards for transactions on their cards.
Even in the cryptocurrency ecosystem, with over 31 million unique wallets already existing and a cryptocurrency market cap of over $160 billion, it is still saddening that crypto users still have to suffer various charges just as they do with fiat currencies.
The knowledge in itself, that a person can get some extra cash or bonuses after a transaction  is one perk that a lot of people desire, especially in the online market place.  As a matter of fact, most major credit card companies are adding this option as one of the benefits of using their services.
Cashback refers to the ability for a person to get back a certain percent of whatever they spend from their credit cards, thus giving them some extra value for their finances.
A typical of a well known company with this service is PAYPAL. Sometimes, paypal encourages it's users to buy products on partner sites, and get a certain percent off, or get a certain financial reward for their purchase. However, with the obvious migrations towards a decentralized system, it is obvious that we also need to enjoy similar perks in the cryptocurrency ecosystem.
What Is CashBag?
CASHBAG.co is a 21st century innovation that gives users the opportunity to get numerous mouth watering rewards for patronizing certain partner merchants. The team have come up with a first-class top standard platform which will help members harmonize their rewards and gain unlimited access to various cashback features.
At the moment, the innovation already has over 150 highly advertisers and more than 685 others waiting to be integrated on the platform.
According to the roadmap, CASHBAG.co is hoping to open up access to over 2500 merchants in the nearest future.
A Simple Image Of How CashBag Works
Benefits Of CASHBAG.co
The platform avails users with various benefits which include
Earning cashbacks and unbelievable discounts from various online purchases
Fast tracked cashback incentives through the application of the blockchain technology
Why Is CASHBAG Leveraging On The Blockchain Technology?
Cashback is taking advantage of the decentralization that comes with the blockchain technology because of the ability to secure data exchanges over various industries.
With blockchain, transfer of information will also be faster and simpler.
The CASHBAG Token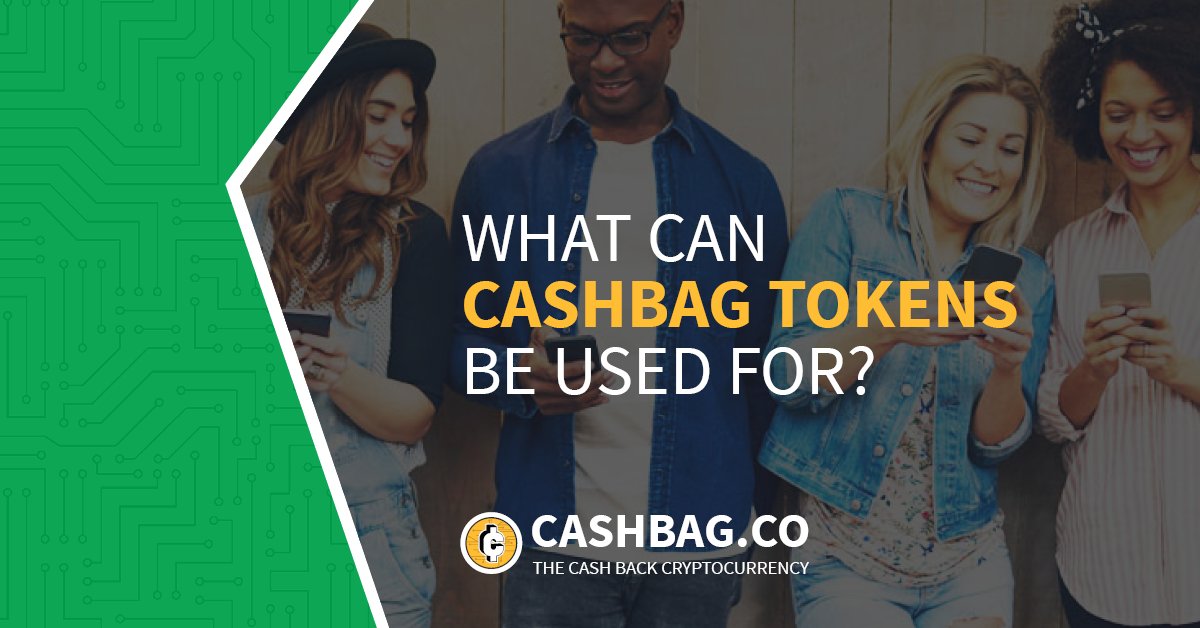 In order to guarantee the security and speed of operations on the platform, CASHBAG will be operating with an ERC20 Ethereum based token. This token will be used to trade on the platform, also it will be used to pay for advertising fees, settle earned incentives and rewards, and every other value based transaction on the CASHBAG platform.
CASHBAG Token Information
Token Symbol : CBC
Token Type : ERC20
Token Supply : 367,000,000 CBC
Token Available for Sale : 120,000,000 CBC
Token Sale Date :
Pre Sale : TBA
Sale 1: 12 March 2018
Sale 2 : 19 March 2018
Sale 3 : 26 March 2018
Sale 4 : 2 April 2018
Token Price :
Pre Sale Stage : 1 ETH = 8400 CBC
Sale Stage 1 : 1 ETH = 7200 CBC
Sale Stage 2 : 1 ETH = 6900 CBC
Sale Stage 3 : 1 ETH = 6600 CBC
Sale Stage 4 : 1 ETH = 6000 CBC
Token Distribution And Use Of Funds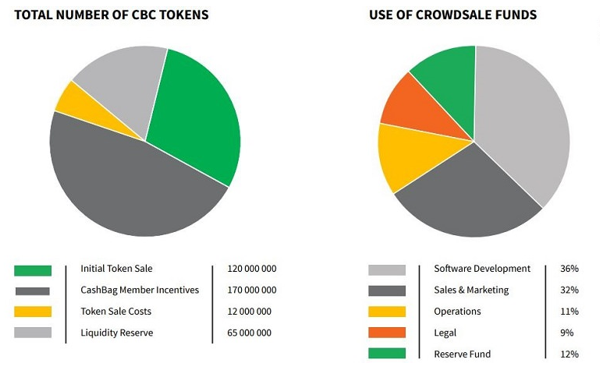 The CASHBAG Roadmap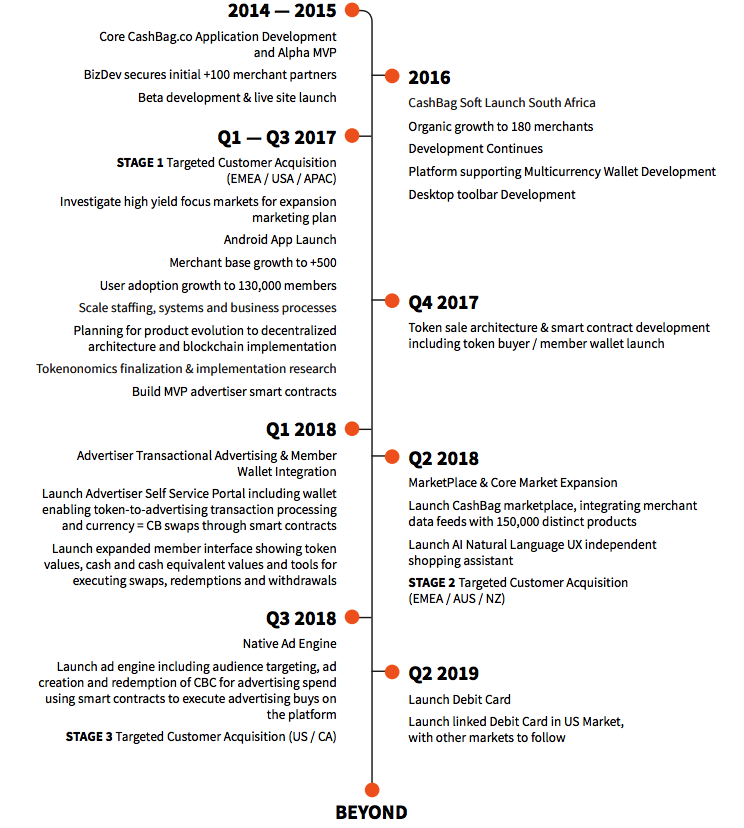 The CASHBAG Team
·        Jonathan Miller – CO-FOUNDER / CEO
·        Kirsty Henderson – CO-FOUNDER / BUSINESS LEAD
·        Eugene Benade – CO-CTO / SOFTWARE DEVELOPMENT
·        Nicolaas Venter – CO-CTO / SYSTEMS ENGINEERING & SOFTWARE DEVELOPMENT
·        Jonathan Meanwell – CMO / BUSINESS DEVELOPMENT & ADVERTISER SALES
·        Divan Bower – USER COMMUNICATION & MESSAGING
·        Maggie Benson – USER EXPERIENCE & FRONT END DESIGN
·        Ryan MacGeoghan – ANALYTICS AND DATA SCIENCE
·        Marc Kenigsberg – EXTERNAL ADVISOR
·        Boyan Josic – EXTERNAL ADVISOR
Objective Thoughts On This Project
From what has been explained, I strongly believe that this is an opportunity for us to get much more value, especially as there's no fee involved. As a matter of fact, the incentives from CASHBAG will help give us a soft landing from the numerous transacton fees that the banks have continually mounted on us.
Based on the transparency and infrastructural development, it is evident that CASHBAG is a worth investment.
For more information, please visit any of the links below:
Website: https://tokensale.CASHBAG.co/
Whitepaper: https://tokensale.CASHBAG.co/documents/CB_Token_Sale_Whitepaper.pdf
Facebook: https://www.facebook.com/CASHBAG.co/
Telegram: http://t.me/CASHBAG
Twitter: https://twitter.com/CASHBAGco
Bitcointalk: https://bitcointalk.org/index.php?topic=2311052.0
Ann thread: https://bitcointalk.org/index.php?topic=2311052.0
Bitcointalk name: Vocalwalls
Bitcointalk Profile Url: https://bitcointalk.org/index.php?action=profile;u=1825008
wallet address: 0x4e643A7C0E494dd7463B5F10b7Bc5F7f8BA702CD