WHAT THE HEALTH INDUSTRY LACKS, SHIVOM HAS
Just recently, I went in for a medical operation, the team that was supposed to handle this operation had briefed me about how successfully they had always been in the past just to put my mind at ease, but what shook the life out of me was when I asked if I could speak with any of the patients, they stared back at me in amazement, then they disclosed that they had been carrying out tests in simulated environments with aggregated data.
OH MY!
How is it that one could go through a life changing medical procedure, and the best this team can use to assess their qualification is unreal simulated data. What is happening to the healthcare industry?
Currently, the healthcare industry is estimated to be worth well over trillions of dollars, and quite a large fraction of this net value is due to various drug development and research avtivities.
In order to carry out their researches successfully, there is the need for a real life, real-time data, but with what we have noticed in almost all the industries in the world, data makes businesses successful.
Due to this fact, there has been a major boom in the data market industry, laser targeted data are being sold out to the highest bidders, without the acknowledgement of the owners of these data.
Having identified this massive flaw, SHIVOM, a blockchain innovation has decided to embark on a mission that will create a perfect synergy between the healthcare industry, and the data market.
SHIVOM PLATFORM
SHOVOM will be creating a platform where people can earn money from giving people access to their genomic information, or where companies and medicinal institutions can get real data in order to improve their research.
It is without any doubts that a project like SHIVOM which gives people a platform to have full control over their data, and who they choose to share it with will have a massive market potential.
Shivom is taking a go at many of the profitable industries in the healthcare system, and given them an offer to obtain real research data. Looking closely at this idea, it is obvious that shivom will easily rake in billions of dollars worth of data from the phearmaceutical industries who are interested in taking their research to the next level.
HOW TO DONATE GENOMIC INFORMATION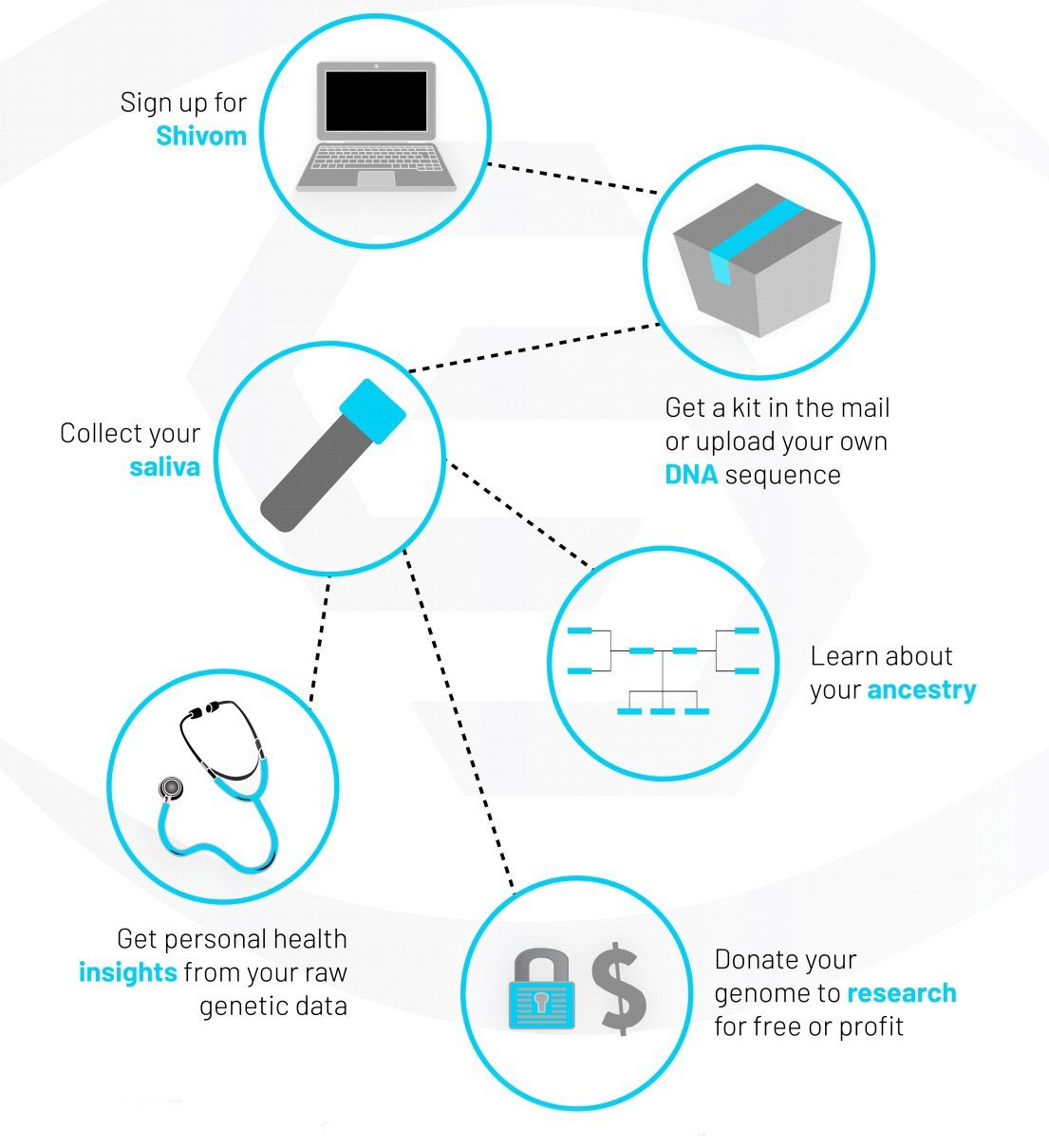 As disclosed on their whitepapaper, shivom will be taking advantage of the 21st century blockchain innovation, in order to create a very secure marketplace platform, where patients and genome donors can put up their data, or get immediate access to information that is tailor made to support their health.
This is definitely an interesting project, and I will encourage people to be a part of this industry changing revolution.
In order to guarantee a safe, secure and easy execution of operations, shivom has introduced an ERC 20 Ethereum based token. This token will also be used for rewards, purchases and a whole other value exchange transactions on the platform.
Token Name: OMIX
Token type: ERC20
ICO Token Price:1 OMIX = 0.0930 USD (0.00014 ETH)
Fundraising Goal:35,000,000 USD
Sold on pre-sale: 33,100,000 USD
Total Tokens: 3,000,000,000
Available for Token Sale: 33%
Know Your Customer (KYC): YES
Сan't participate: USA
Token Issue: IN 2 WEEKS AFTER PUBLIC TOKEN SALE
Accepts: ETH, BTC, LTC, USD, XMR, XRP, BCH, DASH, NEO, QTUM, LSK, ZEC, FIAT
THE TEAM
ROADMAP
For more information, please follow through with any of the links below:
🌐 Website: https://shivom.io/
💡 Whitepaper: https://shivom.io/files/Whitepaper.pdf
👨 ANN Thread: https://bitcointalk.org/index.php?topic=2365709.0
💻 Telegram: https://t.me/projshivom
⌚ Token Sale: Presale Starts April 16
This content is authored by:
Bitcointalk Username: Inene
Profile Url: https://bitcointalk.org/index.php?action=profile;u=2071864
ERC20 Wallet: 0x7eeBa24c32Efcf5f971053c315Cd593BbB3F5698
Telegram: okusorjoy
email: amaka_nene@yahoo.co.uk